You've come this far on your hair restoration journey 👏
Now,

Claim Your 100% Free and Non-Binding Consultation
UnitedCare™ Standards
⭐ 1 Patient a Day
⭐ 21+ years of combined experience
⭐ Dermatosurgeon
⭐ Professional 3D Digital Planning
⭐ ISHRS Associate, World FUE Institute and European Academy of Dermatology Member
⭐ Special DHI/Sapphire FUE Combination Surgeries
⭐ Bio-Enhancements: The highest graft survival rate with organ transplant solutions (Custodiol, hypothermosol), PRP.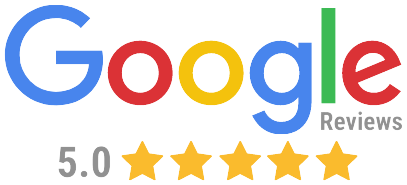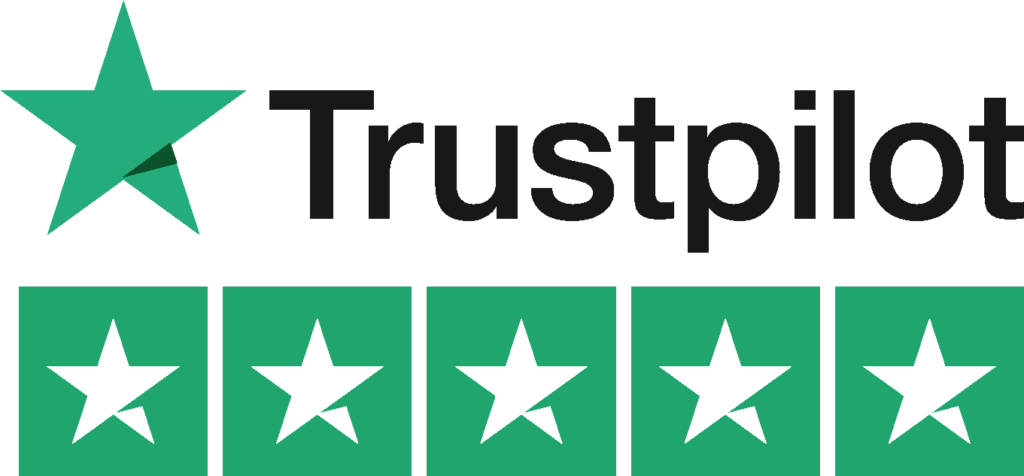 After doing a lot of research into a HT in turkey, I settled on Unitedcare Clinic with Dr Utkan. It's always a risk flying overseas to an unknown medical system.

Suffice to say, I am thoroughly impressed and satisfied with unitedcare clinic. In the days after, one tends to meet others at the airport or restaurants who have gone through the same journey in Turkey, and there is a bond that brings us together to share experiences.

I realised that not all experiences were the same, and it made me appreciate UnitedCare all that more.

Brandon I. 🇦🇺



I would definitely recommend UnitedCare if you are looking for a hair transplant.

My experience was very positive and with help of the pre-operation instructions, I felt prepared. What stood out for me when choosing UnitedCare was the emphasis on 1 patient a day, indicating a small but involved team, the medical background of Dr. Utkan and the transparency on the website.

Also the mentioning of a natural hairline being the main goal helped me in the decision making process.

I always had the feeling I was being taken care of in the best way possible.

Joshua C. 🇳🇿



Very skilled and experienced team. Each person had a specific role to play in each step of the procedure, planned and crucial steps executed by
Dr. Utkan himself.

He used a laser device and graftometer (microscope) to plan transplant according to how baldness should progress, and the scabs formed small and individually, a sign of appropriate spacing and good placement. Corners are especially sharp and I've gotten multiple compliments about them now.

Thank you Dr. Utkan, definitely have my referral.

Aaron L. 🇺🇸

How to take photos?

Get your operation done by
ISHRS Associate Member Dermatosurgeon Dr. Kızıltaç
Your grafts won't die thanks to his state of the art Bio-enhanced Hair Restoration Techniques.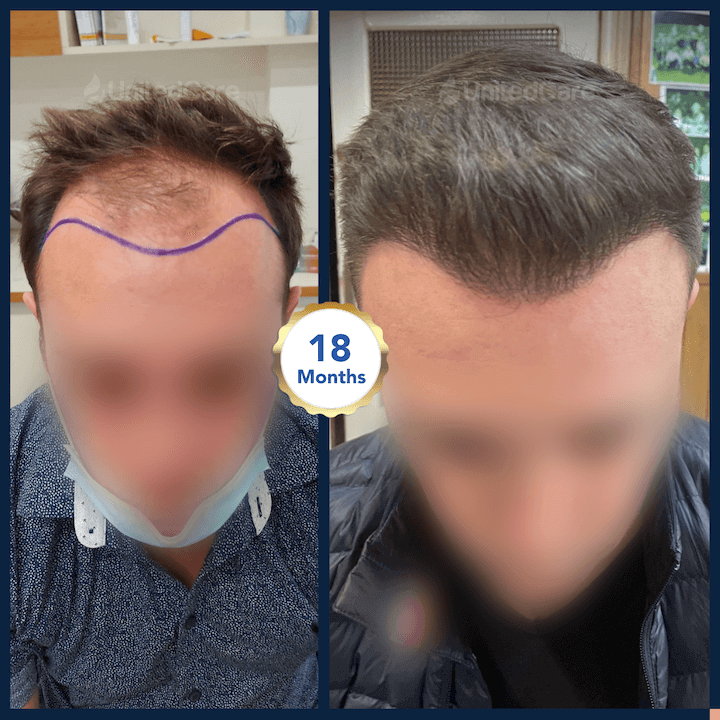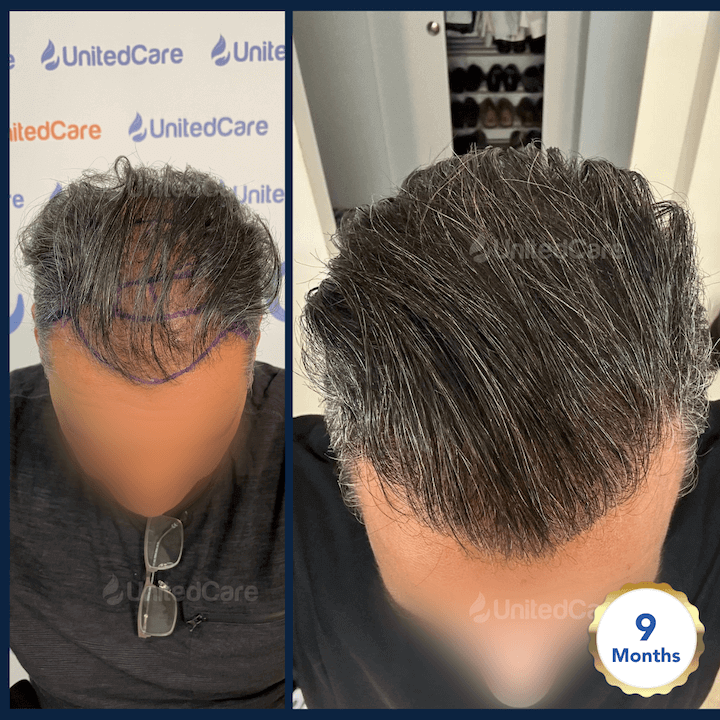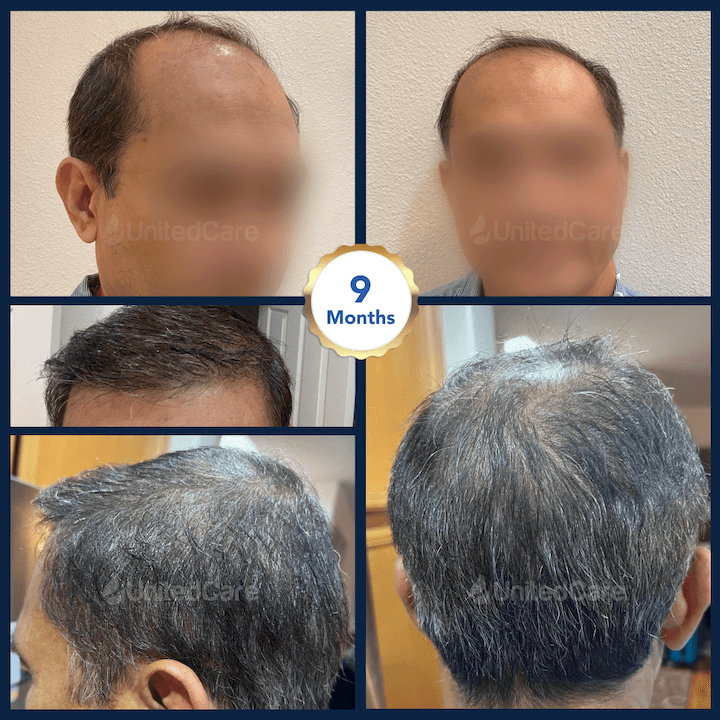 Ps: The final hair transplant result is achieved 18 months after the operation 🏁
What will you get in the free consultation?
Whether you are a candidate for a hair transplant?
What method(s) are best for you (DHI, Sapphire FUE, or a Combination)
How many grafts do you need?
What your hair transplant would cost?
What is your hair loss index over 100?
Hair Loss & hair transplant report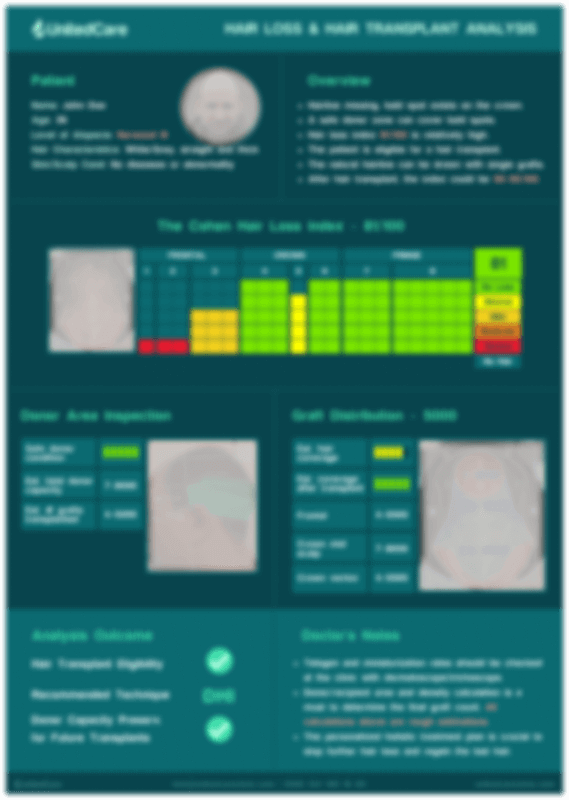 Canadian Arm Wrestler Matt Mask's Hair Transplant Journey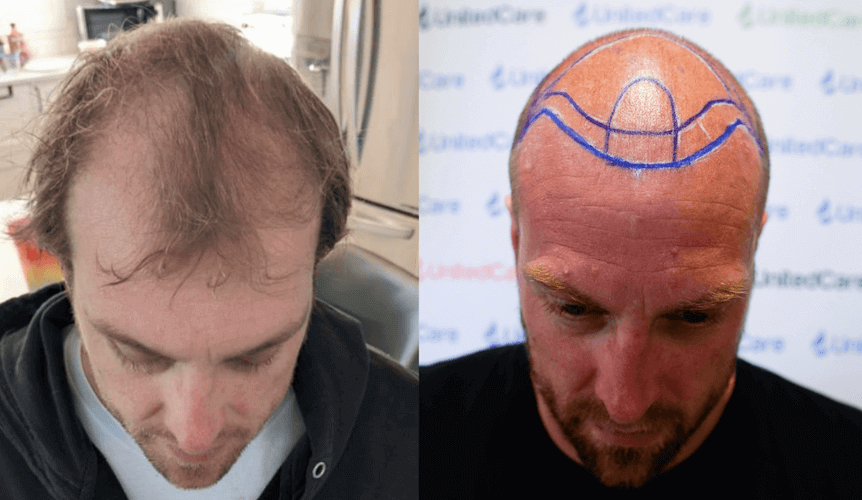 Before the Operation & with surgery plan in place
"Honestly, if you ever feeling a little insecure, you want to get more hair put on the head, UnitedCare is definitely the way to go." 🌱
"I'm pretty happy with the results so far; it's only been 4,5 months. The job that UnitedCare did honestly absolutely fantastic." 🎉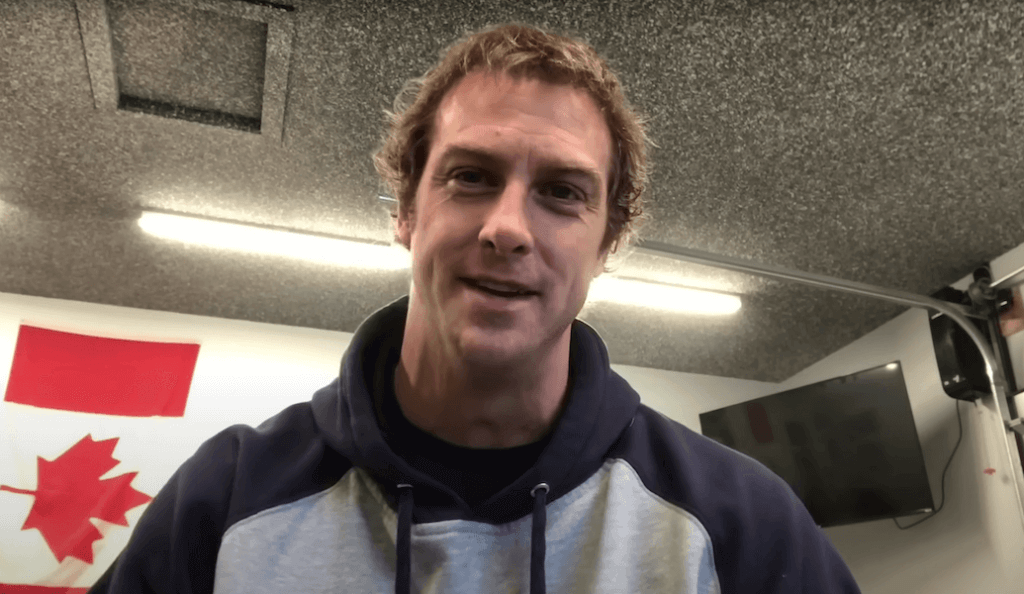 Matt's 6-month hair transplant result. Just 50% of implants have grown yet. The rest will grow in 6-12 months 🚀
Frequently Asked Questions
While the clinic's experienced dermatosurgeons and bio-enhanced hair restoration methods leave no room for failure, its affordable prices in Turkey make it unique worldwide.
Hair Transplantation began as dermatologic surgery, and there is only one medical training branch related to hair loss: dermatology.

A dermatosurgeon knows 3000+ skin/scalp diseases and conditions can find the root cause of your hair loss, and can handle complications during/after the surgery.

Also, a dermatosurgeon can achieve a very low amputation rate and a high graft survival rate since he knows the hair morphology of different ethnicities.

Finally, their personalized holistic treatment plans can prevent short/long-term hair transplant failures.
Physical trauma and blood flow are the most critical factors affecting graft survival and grafts wait about 5 days to be reconnected to the blood supply again in a hair transplant.

Without bio-enhancements, 10 to 20% of grafts may die even after a flawless surgery. Bio-enhancements provide grafts the best medium for survival, recovery, and growth.

At UnitedCare, we achieve outstanding results thanks to bio-enhanced hair restoration techniques.
No, they don't. They are quite expensive products. Even most famous surgeons & clinics don't want a cost increase.
The chief physician of UnitedCare treated more than 50.000 patients in his career with 1000+ hair transplants (recorded in government database).
Fill out the form above or write to us via Whatsapp. Your patient manager will get back to you as soon as possible.
Moments






Doctor's Note
Out of 650.000 hair transplants annually, 32.000 fails because 99% of them are performed without doctor involvement.
On average, 800 to 1200 grafts die in a 4000 graft hair transplant due to the malpractice.
Yes - while it's cheaper than ever to get a hair transplant, it's harder than ever to get a good result.
Most patients coming to Turkey face 3 challenges:
Not being able to see the so-called famous hair transplant doctor of a hair mill (The doctor allocates only 3 minutes to each patient, so what services do you actually pay for?)
Having the surgical parts done by a non-medical or technician (who doesn't follow the literature and doesn't know the best practices. And the worst of all, they can't deal with serious complications).
Finding a respondent from a clinic after paying the money and having the surgery done. (A patient is left alone with unofficial, invalid warranty certificates).
That's why I founded UnitedCare - to provide the best possible service with integrity and transparency concerning Hippocratic Oath.
In the last 11 years, I helped over 1000+ people regain their self-confidence and youthful energy.
I'd gladly and sincerely help you if you're interested in hair restoration procedures.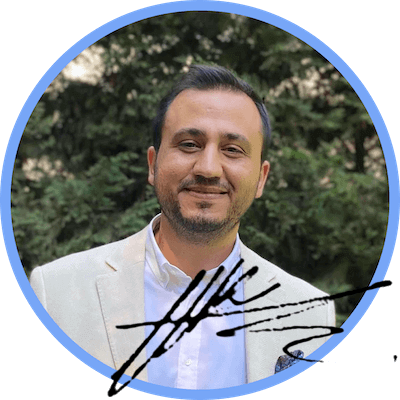 Utkan Kızıltaç, MD, WFUE, ISHRS Assc.
Chief Physician & Dermatosurgeon of UnitedCare