Calculate the Required Grafts and Global Pricing of Your Hair Transplant in 30 seconds
PS: Hair graft calculator app below is based on scientific literature and surgeon's experience.
How the Calculator Works
The maximum implantation area on the head is approximately 40% of the total head area, and we consider the scalp area (the skin area with hair on the head) to be 610 cm2 on average.
The implantation zone is divided into 7 regions. In the 8th region, hair loss is not common.
Some parts of the 7th and 8th regions can be used as donor areas. The safe donor area is located in these two regions.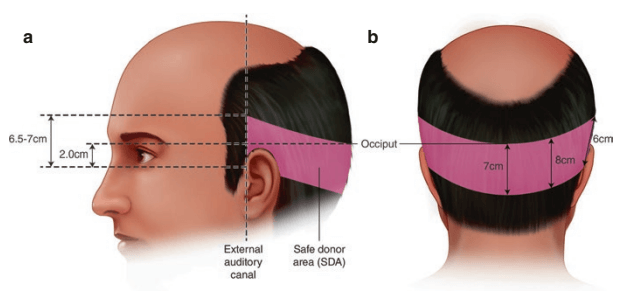 To begin with, click on zones on the head and then select hair loss intensity on the opening modal.
There are 3 hair loss intensity levels:
MINIMAL means there is much more hair than skin
MODERATE means skin and hair is balanced
SEVERE means much more skin than hair or no hair.
You can see sample intensity levels in the image below.

The more hair loss intensity you have in a zone, the more grafts you need.
Other parameters are:
Skin Color
Hair Type
Hair Color
And ethnicity.
Try to select them as accurately as possible to achieve more accurate results.
In the end, there will be 2 result screens: Hair Transplant Graft Count Screen and Worldwide Average Hair Transplant Costs Screen.
Worldwide Average Hair Transplant Costs Screen
The first will show the estimated graft count you need for your hair transplant and your Hamilton-Norwood hair loss type.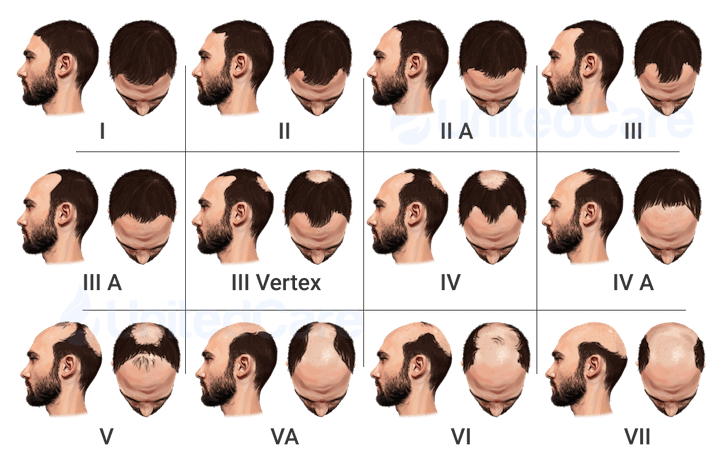 The Hamilton-Norwood Scale measures hair loss levels and anticipates hair loss progression. It has 7 primary and 5 secondary stages.
It is still the most widespread measuring system worldwide in 2023.
Worldwide Average Hair Transplant Costs Screen
It is the final screen of the application.
This page shows your hair transplant cost for the previously calculated graft counts for 13 countries in US Dollars. The cheapest and most expensive countries are on the price/country chart.
To reset the app, refresh the page.
How Many Grafts Do I Need for My Hair Transplant?
You may need 1000 to 9000 grafts to fully cover your bald or thinning zones.
If you've lost almost all hair in frontal zones, you may need up to 3000 grafts.
If you have balding only on your crown zones, 1800-2000 grafts are adequate.
If you don't have any hair on the frontal, crown, and mid-scalp zones, you may need up to 8000-9000 grafts which can be transplanted in 2 sessions.
The dermasurgeon can give you better graft estimations in the free online consultation.
To learn the exact graft count required in your hair transplant for full scalp coverage, you need to visit a clinic of a hair transplant surgeon and get a face-to-face examination.
Good surgeons use:
3D digital scanners
Dermatoscopes
And the trichometer
to find out the exact graft count to transplant in a hair restoration surgery.
Also, they consider
Your future balding progression,
Donor zone health and quality,
Skin quality and atrophy (Dermal atrophy)
And bald & thinning zone areas
to determine the optimum graft count.
In addition, in a hair transplant mega session, the maximum number of grafts is limited to 4800-4900. Above this limit, a patient starts to lose precious grafts, and the efficiency of the operation significantly reduces.
So, 5000 grafts is an upper threshold accepted by many famous surgeons, and a hair transplant with unlimited grafts is impossible.
How Many Hairs Are in a Graft?
The average number of hairs in a single graft varies from person to person and mainly depends on ethnicity. But roughly, each person is considered to have 2 hairs per graft.
In Asian people, the average number of hairs in a graft is 1.5.
In Caucasian people, the average number of hairs in a graft is 3.1.
And, in African American people, the average number of hairs in a graft is 1.65.
The terms GRAFT and HAIR are often misunderstood and, therefore, misused. Let's define each of them one by one.
What is a hair graft?
Graft is a follicular unit that is a collection of 1 to 4 hair strands. A follicular unit or a graft is extracted as a whole and implanted together during hair transplantation.
Since grafts contain multiple hairs, inexperienced performers can easily amputate them, which may result in hair transplant failures.
What is hair in a hair transplant?
Hair is a keratin protein fiber that grows out of a hair follicle in the skin. A group of 1-4 hairs forms grafts.

How Hair Transplants with Different Graft Counts Look Like?
In a single hair transplant session, 1000 to 5000 grafts can be transplanted, yielding completely different results.
Since the price per graft is expensive in countries such as the US, UK, Canada, and Australia, patients may not prefer the maximum possible graft count. Instead, they try to find the balance between cost and coverage.
UnitedCare does not charge per graft and tries to achieve the best result in line with the patient's wishes.
Considering the patient's safe donor condition, skin quality, AGA level, and future progression, UnitedCare's dermatosurgeon Dr. Kızıltaç always maximizes hair transplant session graft count without overharvesting.
Also, remember that long-term hair transplant failures are inevitable without proper holistic planning.
Let's see how maximum possible grafts look like after hair transplant with examples:
What does a 4000+ graft FUE hair transplant look like?
✓ Sapphire FUE Technique
✓ 4350 grafts
✓ 9-month result
✓ New hairs will appear for 9 more months.
✓ Performed by Dr. Utkan Kızıltaç.
✓ Bio-enhanced hair restoration methods are used.
👇






What does a 3000+ graft DHI hair transplant look like?
✓ DHI Technique
✓ 3470 grafts
✓ 9-month result
✓ The final result will be achieved after 9 months.
✓ Done by Dr. Utkan Kızıltaç.
✓ Bio-enhanced hair transplant methods are used.
👇






What does a 4500+ graft FUE hair transplant look like?
✓ Sapphire FUE Technique
✓ 4810 grafts
✓ 4-month result
✓ Implants will grow for 14 months.
✓ Executed by Dermatosurgeon Utkan Kızıltaç.
✓ Bio-enhanced hair transplant solutions are used.
👇






Once a hair follicle dies, it is impossible to revive it.

Get a free dermatologist opinion before it is too late.
What does a 3000+ graft FUE hair transplant look like?
✓ Sapphire FUE Technique
✓ 3470 grafts
✓ 6-month result
✓ 12 more months need for to see the final result.
✓ Performed by Dermatologist Utkan Kızıltaç.
✓ The latest tech bio-enhancements are used to boost the graft survival rate.
👇






What does a 2500+ graft women DHI hair transplant look like?
✓ DHI Technique
✓ 2830 grafts
✓ Bio-enhanced hair restoration
✓ The final result will be seen in 18 months.
✓ Done by Dermatologist Utkan Kızıltaç.
👇




What does a 2500+ graft FUE hair transplant look like?
✓ Sapphire FUE Technique
✓ 2550 grafts
✓ By Dermatologist Utkan Kızıltaç
✓ 18 more months needed for full growth.
✓ Bio-enhancement are used.
👇






Frequently Asked Questions
There are about 50,000 grafts (follicular units) and 100,000 hairs on the average human head. This estimated graft and hair count significantly change with ethnicity, AGA, age, and other significant factors.
A healthy person having no hair loss has 10.000 to 15.000 grafts in his donor zone. All of them can't be transplanted at once.
3000 grafts can cover around 12% of all scalp area. In other words, 3000 grafts can fully cover frontal zones: frontal angle, hairline, and forelock. These 3 zones are indicated with numbers 1, 2 and 3, respectively, in the image below. Alternatively, it can cover the frontal forelock (3), crown mid-scalp (4), crown mid-scalp (5) and crown vertex (6) if hair loss intensity is minimal or moderate in these zones.

2000 grafts can cover about 8% of all scalp areas. In other words, 2000 grafts can fully cover the frontal angle and frontal hairline. Alternatively, it can fully cover the crown vertex.
It significantly varies from person to person depending on the hair loss level (or Androgenic Alopecia progression). You can use the app at the top of this page to get better hair transplant graft count estimation.
Generally, the crown area is 6-8% of all scalp area and 1000 to 2000 grafts fully cover it.
Share graft calculator results with us, and get €100 discount on your hair transplant.
The app at the beginning of this page helps us speed up the consultation and diagnosis processes, so we offer an exclusive discount to every patient that uses it.
Literature References - Graft Calculator App
Leerunyakul K, Suchonwanit P. Evaluation of Hair Density and Hair Diameter in the Adult Thai Population Using Quantitative Trichoscopic Analysis. Biomed Res Int. 2020 Feb 10;2020:2476890. doi: 10.1155/2020/2476890. PMID: 32104683; PMCID: PMC7035527.
Alhaddab M, Kohn T, Sidloi M. Effect of graft size, angle, and intergraft distance on dense packing in hair transplant. Dermatol Surg. 2005 Jun;31(6):650-3; discussion 654. doi: 10.1111/j.1524-4725.2005.31606. PMID: 15996414.
Caroli S, Pathomvanich D, Amonpattana K, Kumar A. Current status of hair restoration surgery. Int Surg. 2011 Oct-Dec;96(4):345-51. doi: 10.9738/cc31.1. PMID: 22808618.
Jiang Y, Zou Q, Liu B, Li S, Wang Y, Liu T, Ding X. Atlas of Prenatal Hair Follicle Morphogenesis Using the Pig as a Model System. Front Cell Dev Biol. 2021 Oct 7;9:721979. doi: 10.3389/fcell.2021.721979. PMID: 34692680; PMCID: PMC8529045.
Franbourg A, Hallegot P, Baltenneck F, Toutain C, Leroy F. Current research on ethnic hair. J Am Acad Dermatol. 2003 Jun;48(6 Suppl):S115-9. doi: 10.1067/mjd.2003.277. PMID: 12789163.
Maymone MBC, Laughter M, Pollock S, Khan I, Marques T, Abdat R, Goldberg LJ, Vashi NA. Hair Aging in Different Races and Ethnicities. J Clin Aesthet Dermatol. 2021 Jan;14(1):38-44. Epub 2021 Jan 1. PMID: 33584967; PMCID: PMC7869811.
Wambier CG, King BA. Rule of thumb: A simple tool to estimate 1% scalp surface area. J Am Acad Dermatol. 2019 Aug;81(2):630-631. doi: 10.1016/j.jaad.2019.01.022. Epub 2019 Jan 23. PMID: 30682394.
Rose PT. The latest innovations in hair transplantation. Facial Plast Surg. 2011 Aug;27(4):366-77. doi: 10.1055/s-0031-1283055. Epub 2011 Jul 26. PMID: 21792780.
Olsen EA, Canfield D. SALT II: A new take on the Severity of Alopecia Tool (SALT) for determining percentage scalp hair loss. J Am Acad Dermatol. 2016 Dec;75(6):1268-1270. doi: 10.1016/j.jaad.2016.08.042. PMID: 27846957.
The Coverage Value concept by Dr. Koray
Loussouarn G, Garcel AL, Lozano I, Collaudin C, Porter C, Panhard S, Saint-Léger D, de La Mettrie R. Worldwide diversity of hair curliness: a new method of assessment. Int J Dermatol. 2007 Oct;46 Suppl 1:2-6. doi: 10.1111/j.1365-4632.2007.03453.x. PMID: 17919196.
Disclaimer
We remind you that this analysis is made based on your inputs. Head dimensions, area sizes, and skin/scalp conditions are not perfectly understood by the app above and may significantly alter the calculated graft and cost. Therefore, we do not guarantee the accuracy of the hair transplant cost & graft calculator results.
We make no representations or warranties of any kind, express or implied, about the completeness, accuracy, reliability, suitability, or availability of this app's results or the information, services, or related graphics contained in the app for any purpose. Therefore, any reliance on such information is strictly at your own risk.
Every year 650,000+ men regain their self-confidence with hair restoration.
How about you?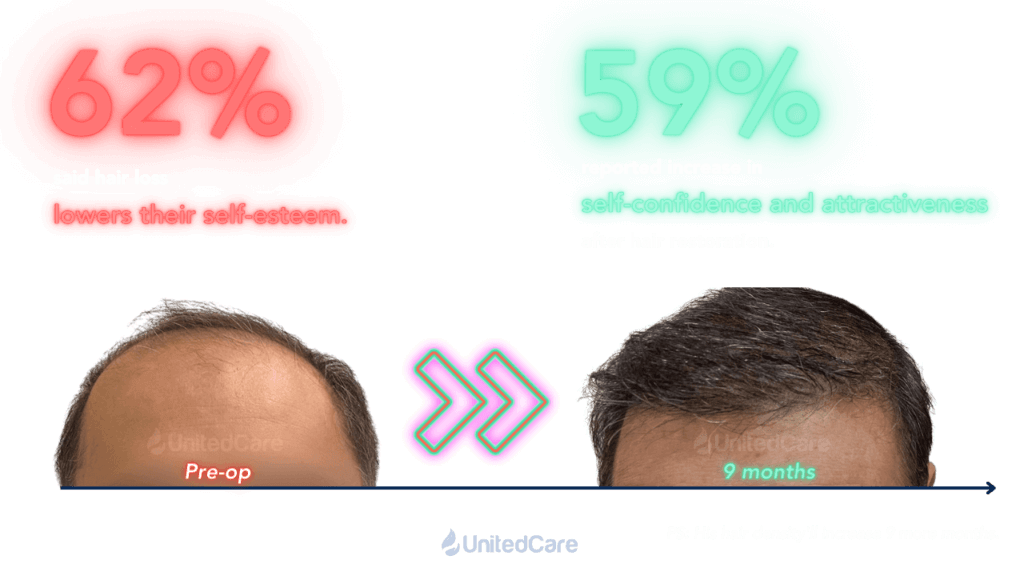 Curious about every step of your possible Hair Transplant Surgery? 🇹🇷