Technician Dermatosurgeon
led hair transplants with
the most up-to-date methods
✓ Natural-looking hairline
✓ 1 patient a day
✓ 100% free and non-binding assessment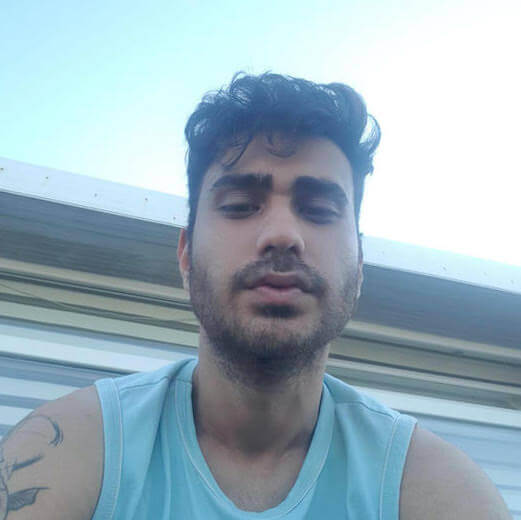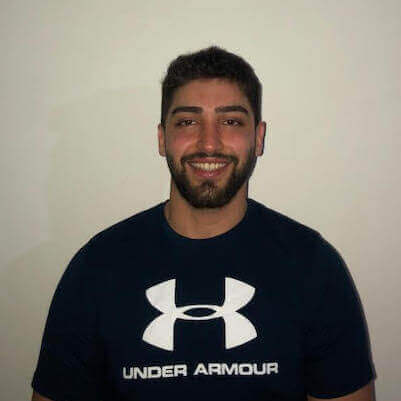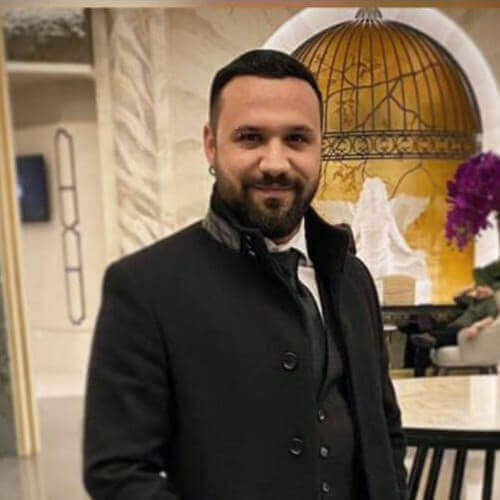 ⭐️⭐️⭐️⭐️⭐️
5/5 from 250+ reviews
Trusted by 50,000+ patients
with 1,000+ hair transplants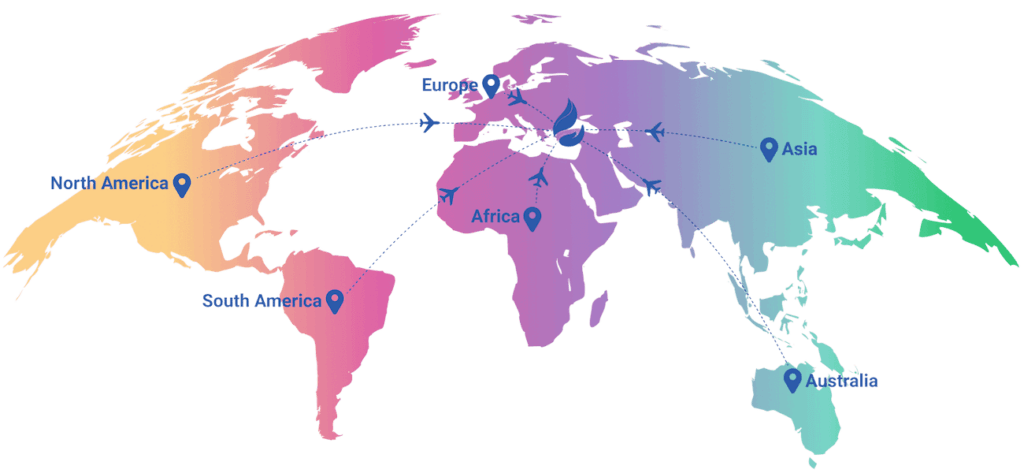 Hasan, Turkey

Dr. Utkan and his team are experts on this, and everyone who experiences severe hair loss should first benefit from their knowledge, then their treatments.

Leo, US

A most important and life changing experience of a lifetime. Kudos team and God bless. Be back w other members of my family.

John, US

Dr. Utkan and his technicians are friendly, helpful, and attentive to what you need to make your experience successful. I recommend this clinic to anyone looking for a good surgeon!

Arda, Turkey

I had hair transplant with Dr.Utkan,my surgery was incredibly comfortable. Now,hairline is as as I wanted and no other problem till now. I would recommend Dr.Utkan to anyone.

Johnny, US

Excellent Service fro start to finish. I would recommend to anyone needing cosmetic surgery. Everyone was very nice and truly concerned about my well being. A++!
Utkan Kızıltaç, MD
The only ISHRS associate member and dermatosurgeon in Turkey, performing hair transplantation himself, putting an end to technician-led failed surgeries.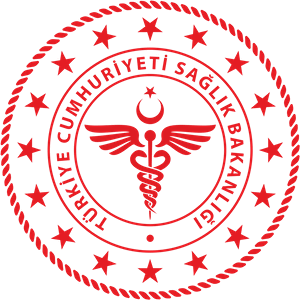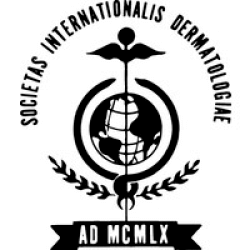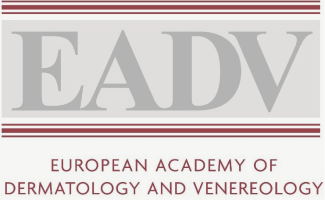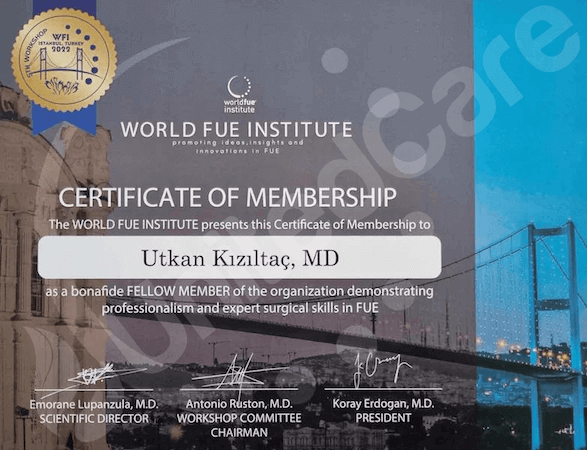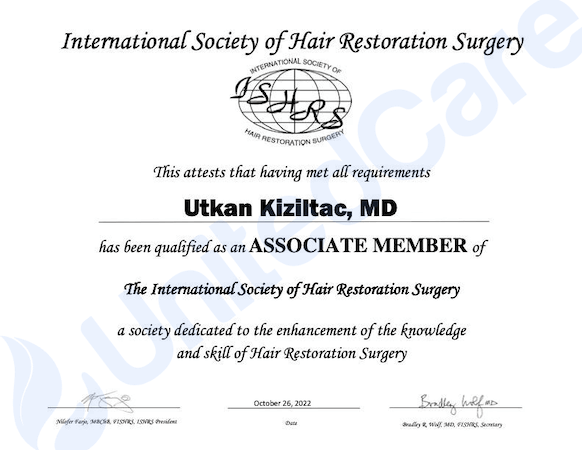 Every year 650,000+ men regain their self-confidence with hair restoration.
How about you?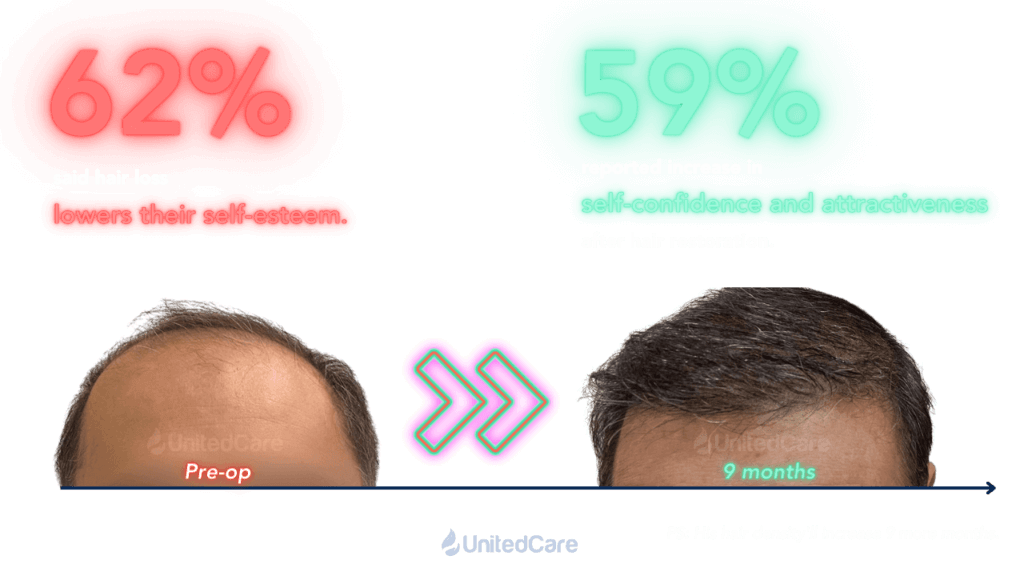 What's Possible with 2023 Hair Transplant Technologies?
Natural looking implant positioning and angles
Comfortable operation w/ anesthesia; you can even sleep
Durable results with safe donor hairs
Getting back to normal life in a week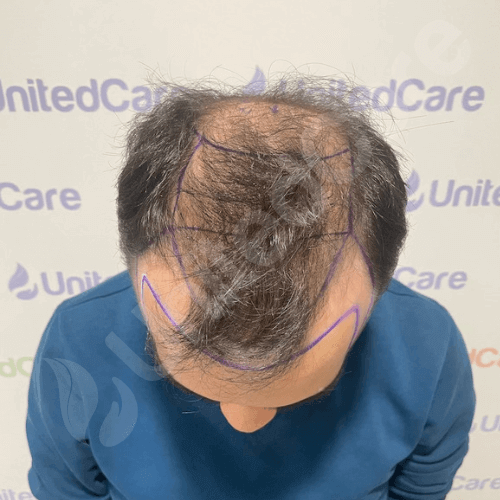 Once had thick and strong hair?
Let's get it back together with the latest technologies.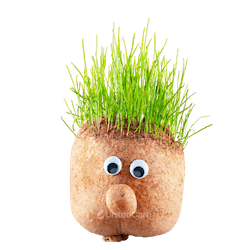 You need to watch these videos not to face hair transplant failures.
4 Crucial Elements of a Natural Hairline:
How to protect fragile grafts with biological enhancers?
#1 Guide to Hair Loss
Download our free ebook "Getting Back to Natural" and
discover the truth behind hair loss and hair transplantation.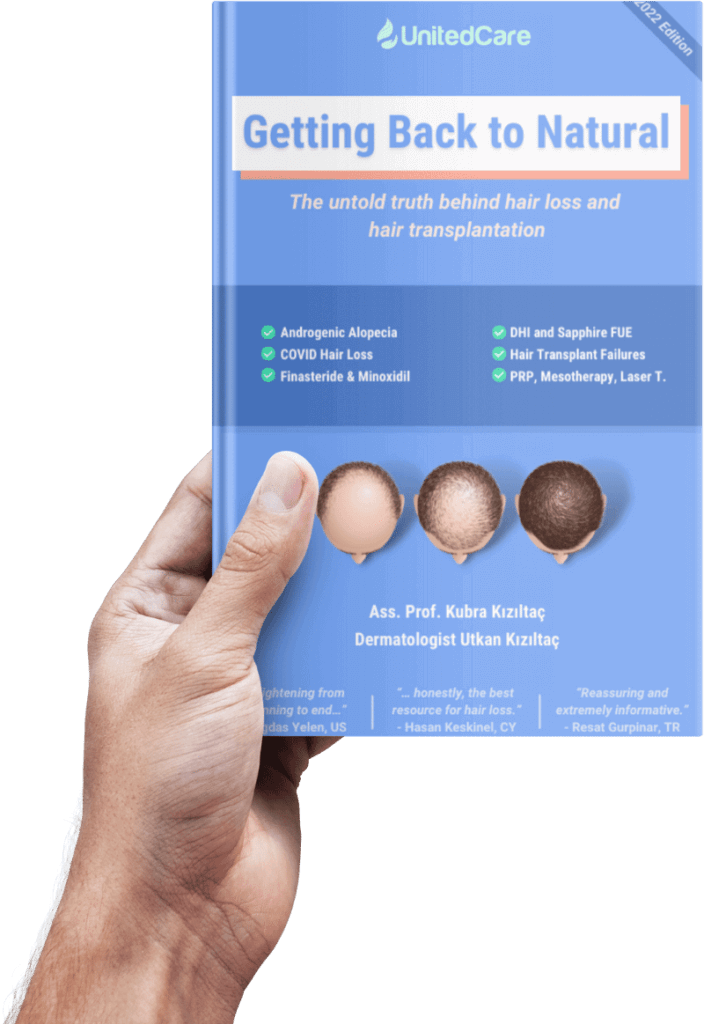 Once a hair follicle dies, it is impossible to revive it.
Get a free dermatologist opinion before it is too late.
People you just met will never understand
you had a hair transplant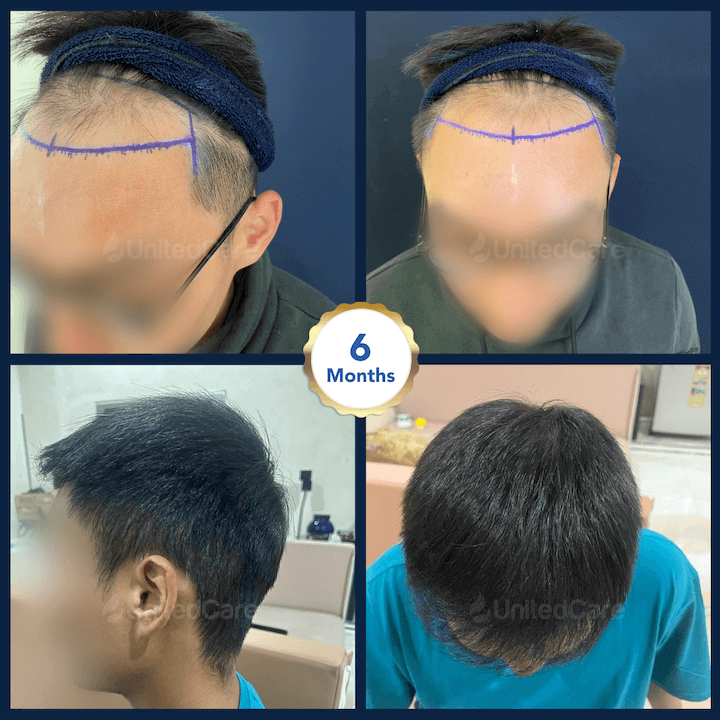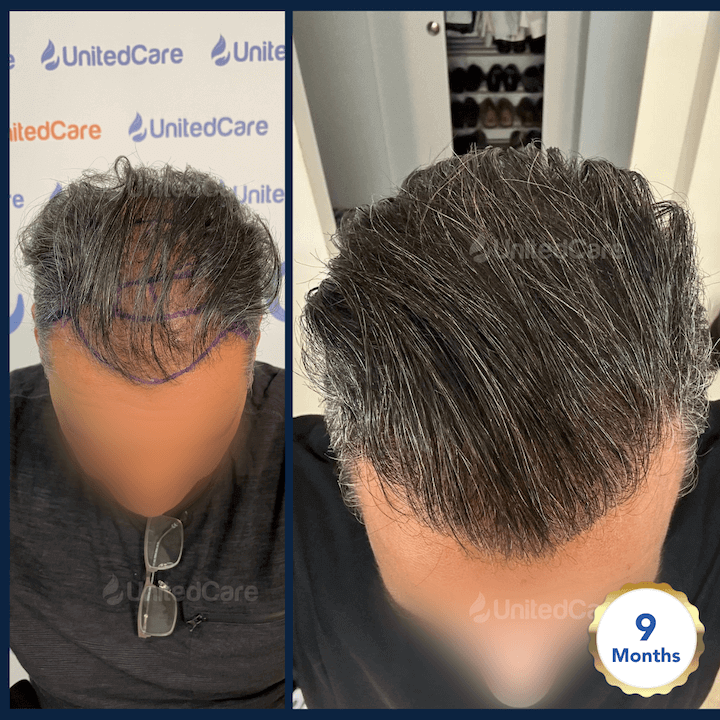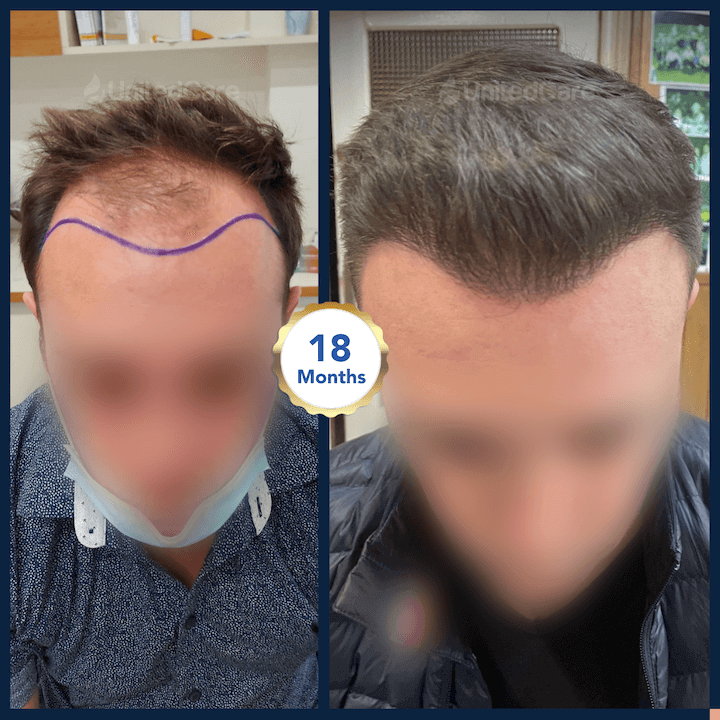 Afraid of Scars in the Back of your Head?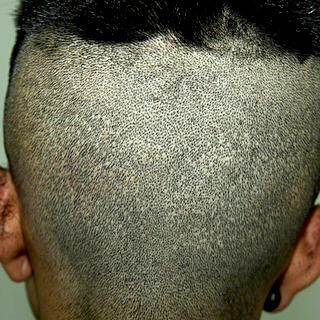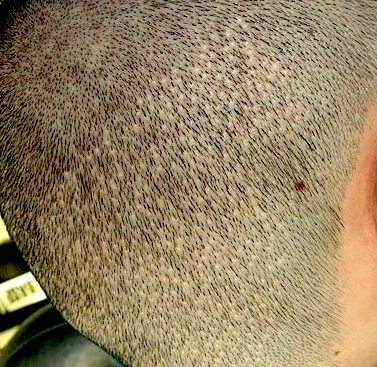 The main reason for these scars is using a big punch to increase the surgery speed without amputating the grafts.
The high surgery speed is essential for hair mill clinics since the technician crew will move to the next patient.
Don't worry, there is an optimal punch size for you, and the dermatosurgeon will find it out.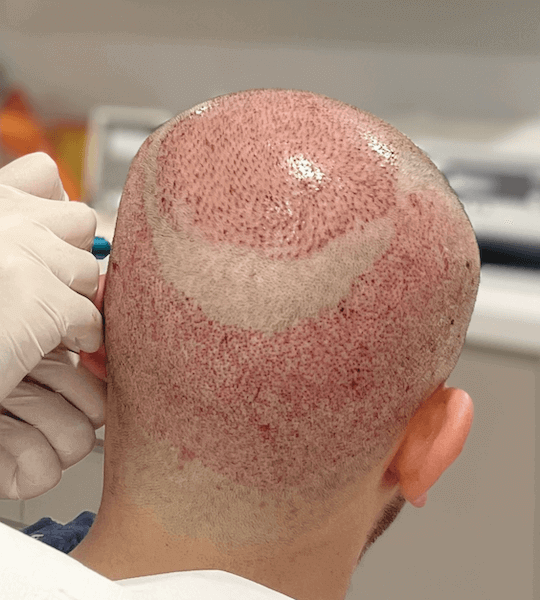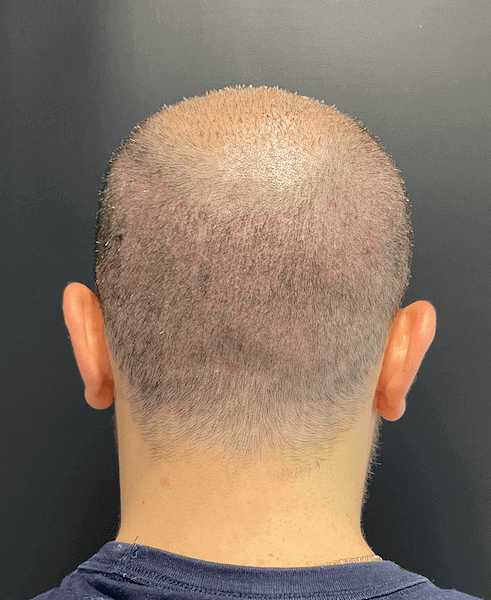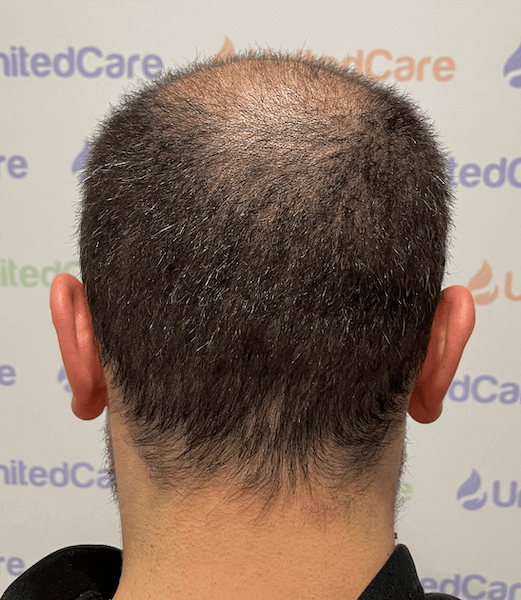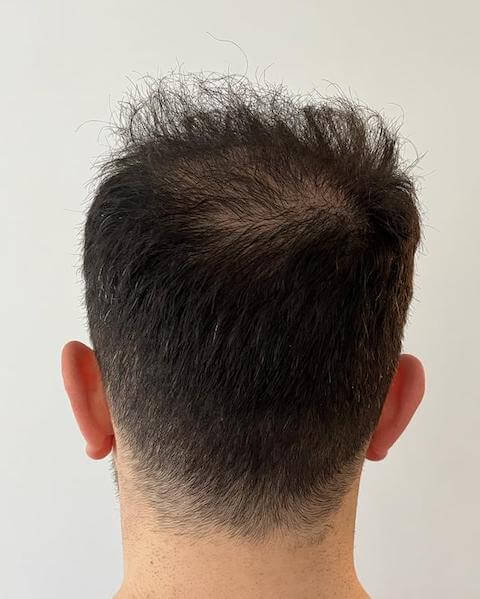 Too small punch, grafts with multiple hairs are amputated. Too big, hypopigmented pinpoint scars are left.
The dermatosurgeon takes the following variables into account while determining the punch diameter:
✓ Hair shaft diameter and caliber
✓ Single, double, and triple grafts ratio
✓ Bald skin atrophy levels
✓ Skin thickness and fat
What to do to get an affordable, cutting-edge hair transplant?
Just book your flight. We'll handle the rest for you in Istanbul.

The dedicated customer success specialist answers all of your questions. The foreign language-speaking chauffeur handles all transfers with the VIP Van. 5-Star Hotels will be at your service for 3 nights. Operations are done by experienced dermatologist hair transplant surgeons. Aftercare kits and all medications will be provided to you.
Doctor's Note
Out of 650.000 hair transplants annually, 32.000 fails because 99% of them are performed without doctor involvement.
On average, 800 to 1200 grafts die in a 4000 graft hair transplant due to the malpractice.
Yes – while it's cheaper than ever to get a hair transplant, it's harder than ever to get a good result.
Most patients coming to Turkey face 3 challenges:
Not being able to see the so-called famous hair transplant doctor of a hair mill (The doctor allocates only 3 minutes to each patient, so what services do you actually pay for?)
Having the surgical parts done by a non-medical or technician (who doesn't follow the literature and doesn't know the best practices. And the worst of all, they can't deal with serious complications).
Finding a respondent from a clinic after paying the money and having the surgery done. (A patient is left alone with unofficial, invalid warranty certificates).
That's why I founded UnitedCare – to provide the best possible service with integrity and transparency concerning Hippocratic Oath.
In the last 11 years, I helped over 1000+ people regain their self-confidence and youthful energy.
I'd gladly and sincerely help you if you're interested in hair restoration procedures.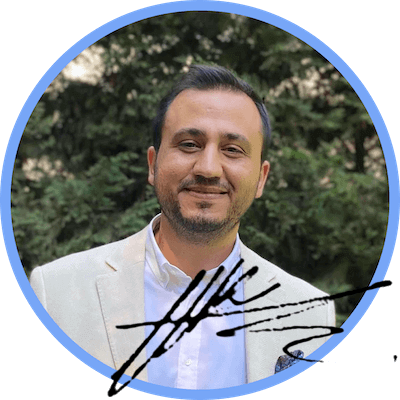 Utkan Kızıltaç, MD, WFUE, ISHRS Assc.
Chief Physician & Dermatosurgeon of UnitedCare