TL;DR
➡ Hair transplant is just like any other surgery. Despite its high success rate, it still contains a realistic possibility of failure or side effects.
➡ A hair transplant's success or failure is directly connected to how good your communication is with your doctor about your medical history and how well you can pay attention to your hair's health during, before, and after a finished surgery.
➡ Aside from being one solution for battling hair loss, hair transplants also include different options that are best suited for you.
➡ As your road to success is heavily influenced by your clinic; ideally, your choice of the right one with a dermatologist will be the determiner.
When it comes to hair transplant surgeries, hair loss patients have doubts regarding both the process and the results.
And it's only natural.
Just like any other medical surgery, there isn't a 100% guarantee a hair transplant will be successful, and if anything goes wrong it will significantly affect your appearance.
It's important to see what you'll possibly look like after a hair transplant, so going through success (and failure) stories and their before-after photos is a key process in making the decision.
In this blog, I want to compare different stories and before-after photo series around hair transplant surgeries and offer my professional opinion as a dermatologist that specializes in hair restoration.
But first, let me go over what you should look for when examining before-after photos and stories regarding hair transplantation:
What to Look for in Hair Transplant Before and After Photos
Not every hair transplant procedure is the same.
In fact, for most patients, we have to use different practices, techniques, and products to ensure success.
So, not every outcome is the same, and as you browse through various hair transplant progress photos, you need to be aware of what you're looking at.
If you can get the specifics of the procedure and the context of the photos, you'll be more likely to understand whether the success (or the failure) in the photo is what you will get.
So, let's go through a few pieces of the key information you need to have as you examine before-after photos of hair transplants:
Time Passed After Surgery
This is perhaps the most crucial information you need, as a photo posted online without the time stamp on it can be misleading.
During the recovery of a hair transplant, between the surgery and your newly transplanted hair initiating visible growth which should take around 6-12 months, there are different stages that you should be aware of:
▶ Day 0 – Week 2: Scabs and crust, as well as reddish skin around the recipient site, are normal. Swelling in the forehead and around the eyes is also common.
▶ Week 4 – Week 12: During this period, a process called "Shock Loss" can happen, when a significant amount of transplanted hair will fall out. However, all of this hair is expected to grow back, as this is your hair's natural response to the surgery.
▶ 3-6 Months: This is where you should see visible growth of your new follicles.
▶ 6-12 Months: The end result of your hair transplant is what you will see here. There won't be additional improvements past this point.
So, when you're looking at a photo, try and compare the stage the person in the photo is in with these stages.
Patient's Situation Before the Surgery
It's also important to know what situation the patient that underwent a hair transplant surgery was in before the operation.
Comparing results without seeing the appearance prior to the operation can cause false impressions.
Especially in some photos that are considered failures, you might see patients' hairlines not recovering fully. But, these patients might have had 5000+ graft surgeries that covered a significant part of their scalp and most of the grafts might have survived except the ones shown in the photos.
Such an operation would be considered a success by the majority of expert surgeons, and a relatively smaller follow-up surgery would be enough to fix the situation.
Hair Transplant Method
Hair restoration includes many different methods that can change drastically both in procedures and end results.
Some of the most common hair transplant methods are FUT, FUE, DHI, Sapphire FUE, and Robotic Hair Transplantation.
Each method has its downsides and upsides, and the photos of each procedure will look slightly different. So, you can make a more accurate decision if you compare photos and hair transplant progresses based on the surgery method.
Graft Count
A hair transplant is only successful if the majority of transplanted hair follicles have survived after the recovery period.
And the graft count that was implanted in the first place will obviously establish the base for success in hair transplants.
For example, if a patient had a more extensive 5000+ graft FUT transplant and there are slight distortions in the desired hairline, it can still be considered a success if the grafts that didn't survive were low in numbers.
On the other hand, a hair transplant of 2000 and lower grafts can be considered a failure if there was even minimal hair loss.
So, it's best to know the number of transplanted hair grafts before making decisions based on these photos.
Additional Methods/Products Used
If you're aiming to replicate a certain patient's results with the same amount of grafts and the same technique, it's also better to know if they have used additional methods and products.
For example, a majority of top clinics that have created the best patient success stories also use bio-enhancements during and after the surgery, which is something we have adopted since day 1 at UnitedCare. This addition significantly improves graft survival and decreases the chances of hair transplant failures.
Also, the quick and outstanding results usually are supplemented by additional products, mainly minoxidil and finasteride. Some patients even use derma-rollers or laser caps to help their scalp heal and grow after the surgery.
You should consult an expert clinic, preferably a dermatologist knowledgable in all these products and their effects, and do your own research to see what you can use to maximize your chances of success.
Now, let's look at a few hair transplant before and after photos and examine these patient's progression:
1- Sapphire FUE Success at UnitedCare
Method Used: Sapphire FUE
Of course, I want to start with one of my own patients to set the scene.
It was last year, 2021 when this patient (29 years old) came in for an examination. He had a progressed male pattern baldness that completely receded his hairline.
He was a great candidate for an FUE surgery, as his donor sites have had enough healthy hair follicles for a large-scale hair transplant and his pattern baldness wasn't progressing as much as it used to.
First, I've prescribed oral finasteride for him to start taking 60-days prior to the surgery, and Vitamin C supplements a week prior.
During the day of the surgery, we proceeded, as usual, using the Sapphire FUE technique and bio-enhanced hair transplantation.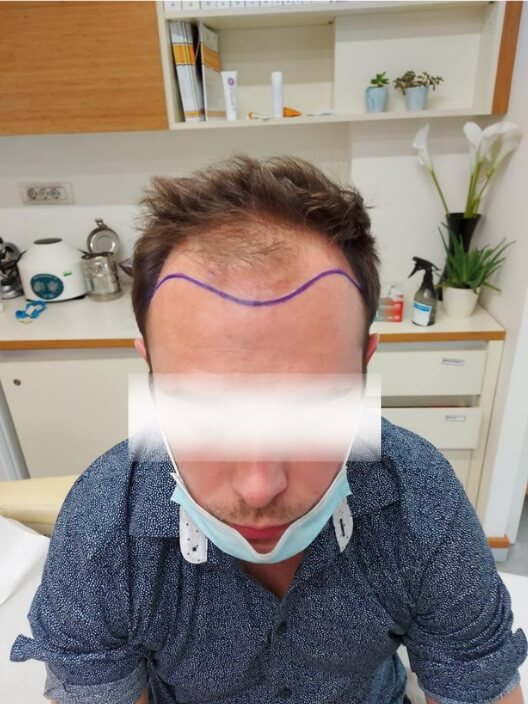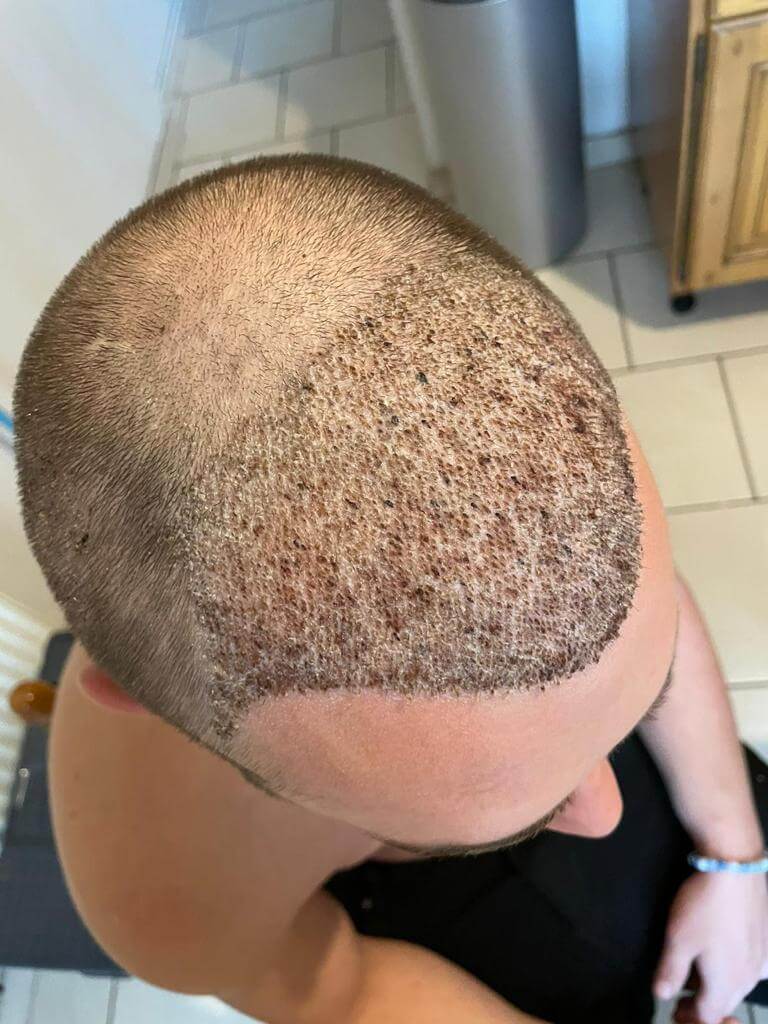 The operation was a success, and his hair showed a great recovery rate during the first two weeks. After the first month, he has also started using Minoxidil regularly to promote hair growth.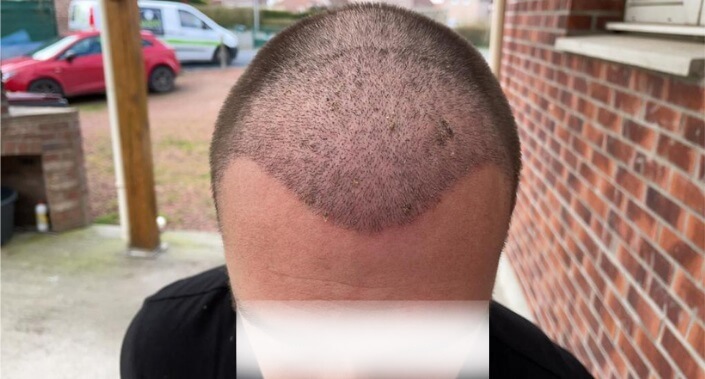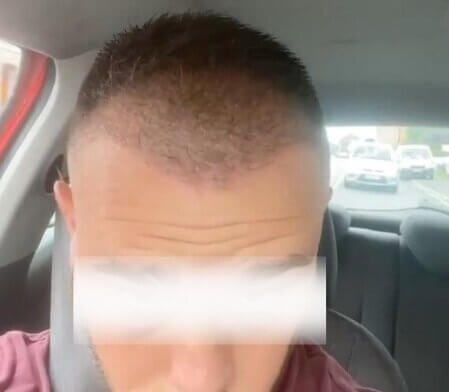 The following months showed great progress as well, the Shock Loss was minimal, and results started to come in at the 6-month mark.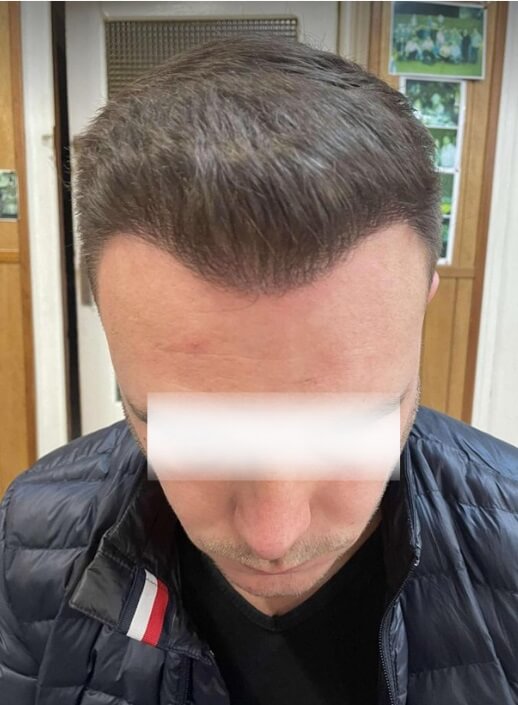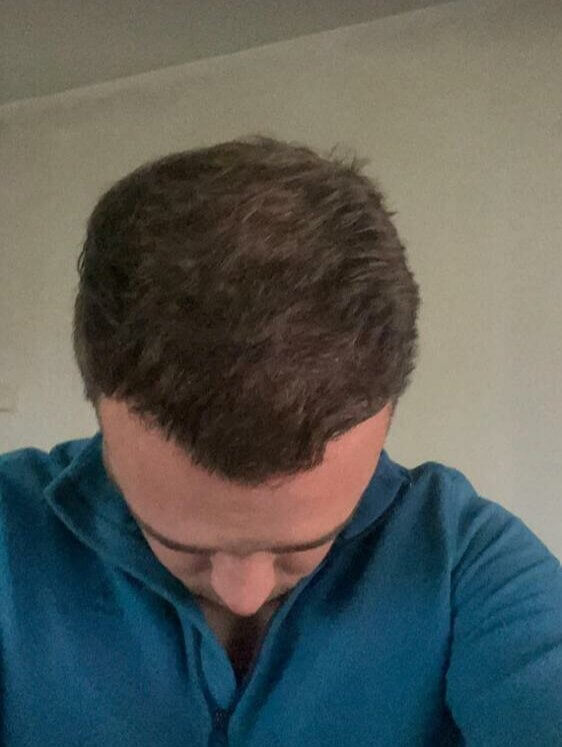 Between 6-8 months, as his hair grew longer, his results started to establish themselves.
For an operation of this scale with 4200 grafts, this patient's hairline has recovered perfectly, and without needing a second surgery, he achieved the natural look he lost years ago.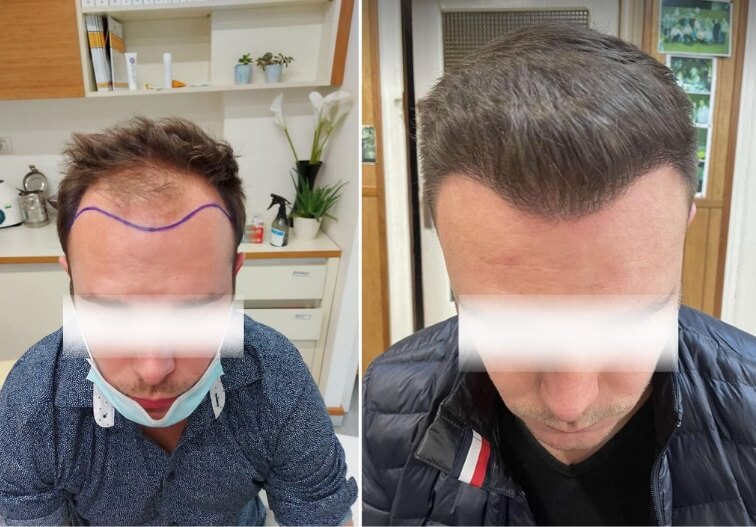 Of course, the key points to achieving success with a critical operation like this were using the right techniques such as Sapphire FUE and bio-enhancements, as well as the patient's utmost attention to detail in after-care of their hair transplant.
2- Fitness Youtuber Mike Thurston's 1 Year of Success
Fitness Youtuber Mike Thurston, who has been a content creator regularly posting videos regarding his workout routine and advice for his followers for years, underwent a hair transplant surgery and decided to show his progress on his channel as well.
In his Youtube video dedicated to the hair transplant operation, he explains his background, the other products he has used, as well as all the surgery steps he went through including the initial recovery.
He had a (possibly) 2000 graft FUE surgery to restore his frontal hairline as well as to cover up the bald spot on the top of his scalp. His procedure also included a step of medical scalp pigmentation, which can be explained as numerous millimetric tattoos applied across your scalp to provide a more consistent result.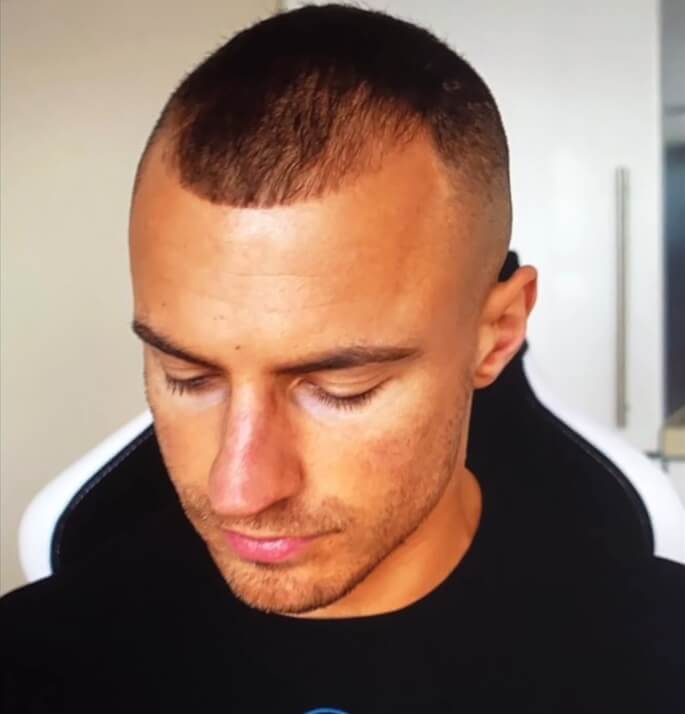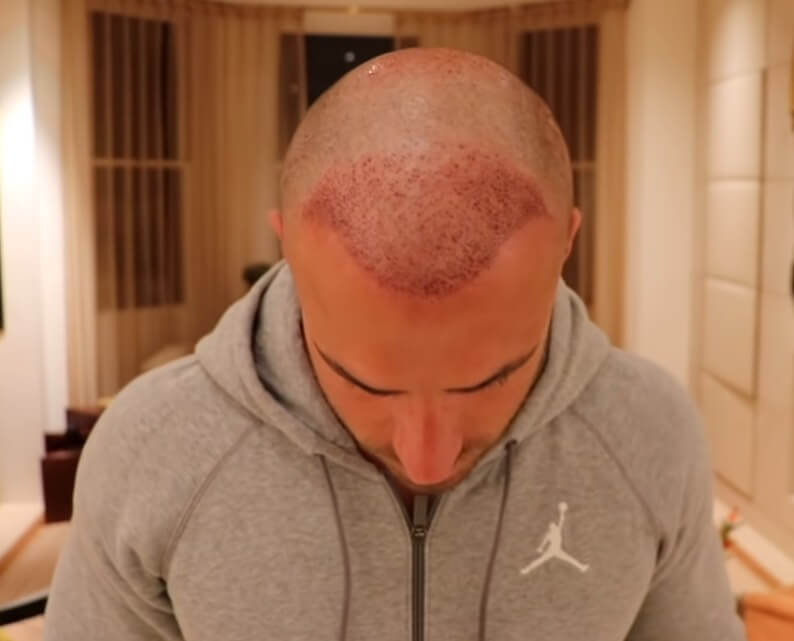 His initial recovery process progressed as planned, and he also started using Finasteride regularly during this process.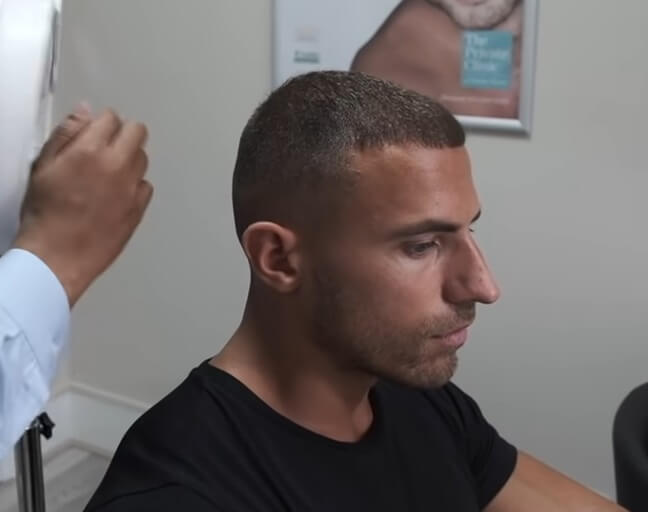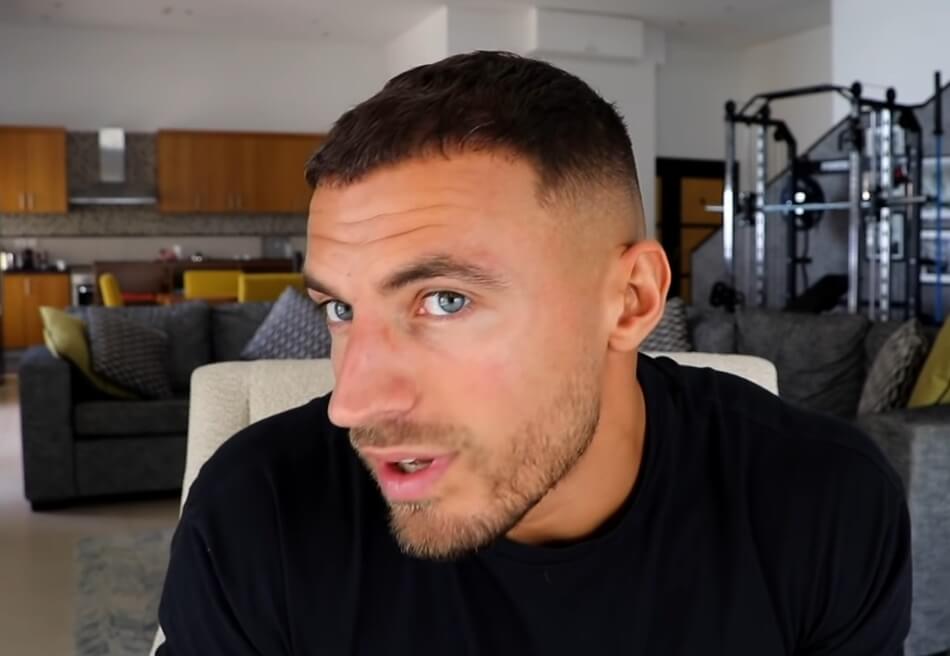 About 6 months later, he has seen a full restoration of his hairline as well as a natural-looking full head of hair.
As he has stated in his video, if you want to get a hair transplant, you need to get it right. To do so, you need to work with the right surgeon in the right clinic. Mike agrees he owes the majority of his success to choosing an expert surgeon for this procedure.
3- 6 Months of FUE Success
In another successful hair transplant procedure that's documented on Youtube, the 27-year-old patient Sandy undergoes a DHI surgery that most likely includes 2500-3000 grafts.
As someone that likes to rock a swept-back hairstyle, his hairline receding needed to be fixed.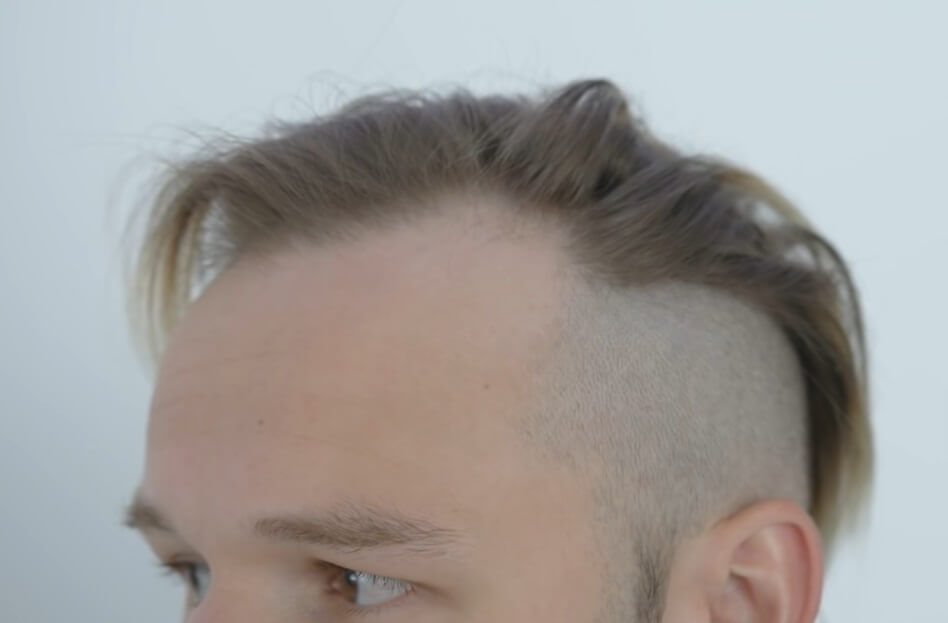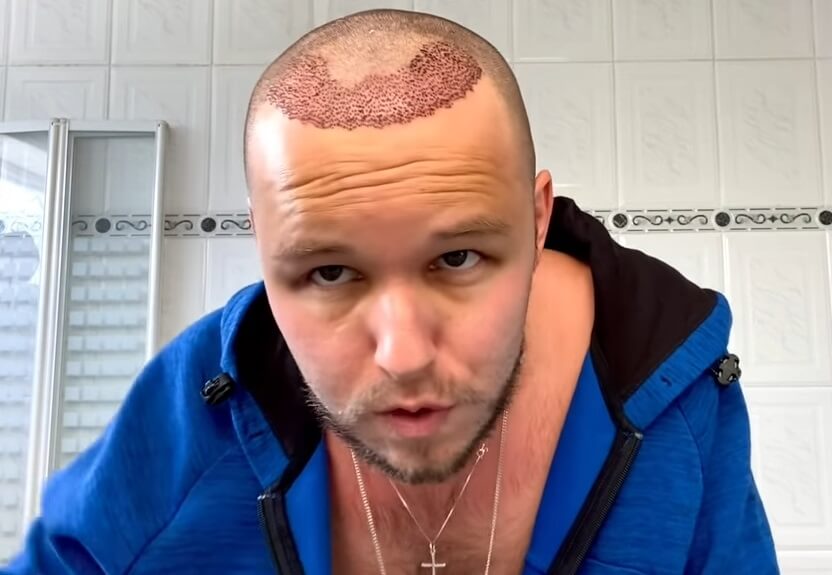 You can see the new hairline established 5 days following the surgery. There are some scabs and crust around the recipient site, which is completely normal at this stage.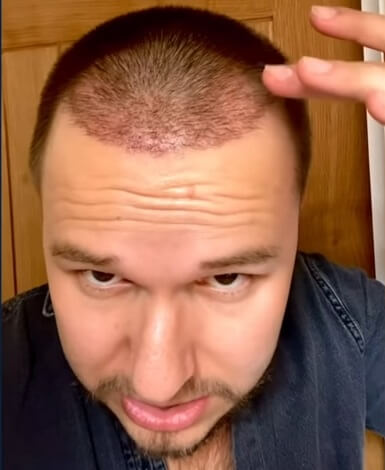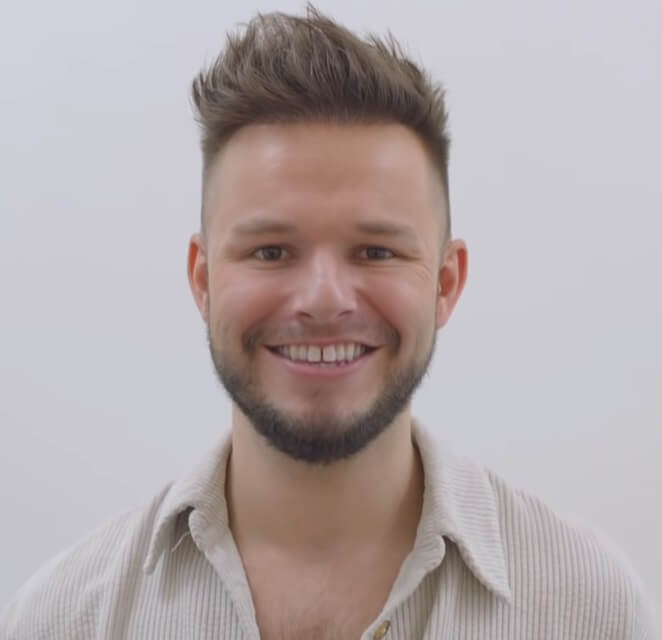 2 weeks following the surgery, he goes through an outstanding initial recovery process that makes his hairline come back.
And, as you can see from the photo above, 6 months after the surgery he has achieved his desired result and has medium-length hair that makes him look much younger than before his surgery.
4 – Elon Musk's 2-Decade Hair Transplant Success
The famous founder of Tesla and SpaceX and the recent owner of Twitter entrepreneur Elon Musk isn't someone that was immune to hair loss.
In fact, his overall appearance looked much different some 20 years ago, since he had a progressed male pattern baldness that distorted his front hairline completely.
In this photo, you can clearly see the severity of Elon's hair loss from the days of PayPal: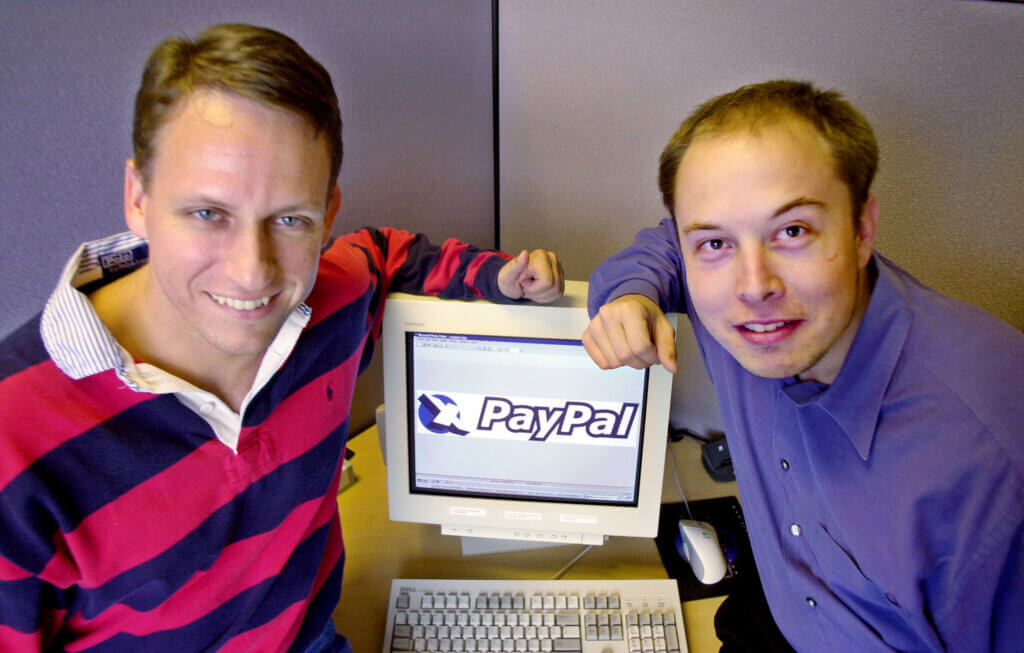 At the time, hair transplantation wasn't as popular as it is today, nor was it advanced.
Although there is no official confirmation, many experts speculated that he has undergone a hair transplant surgery, more specifically a FUT, to restore his hairline.
And I agree with the speculations, as I definitely think he has received at least 4000 grafts to recover his hairline.
You can clearly see the drastic improvement during a speech he made in 2003: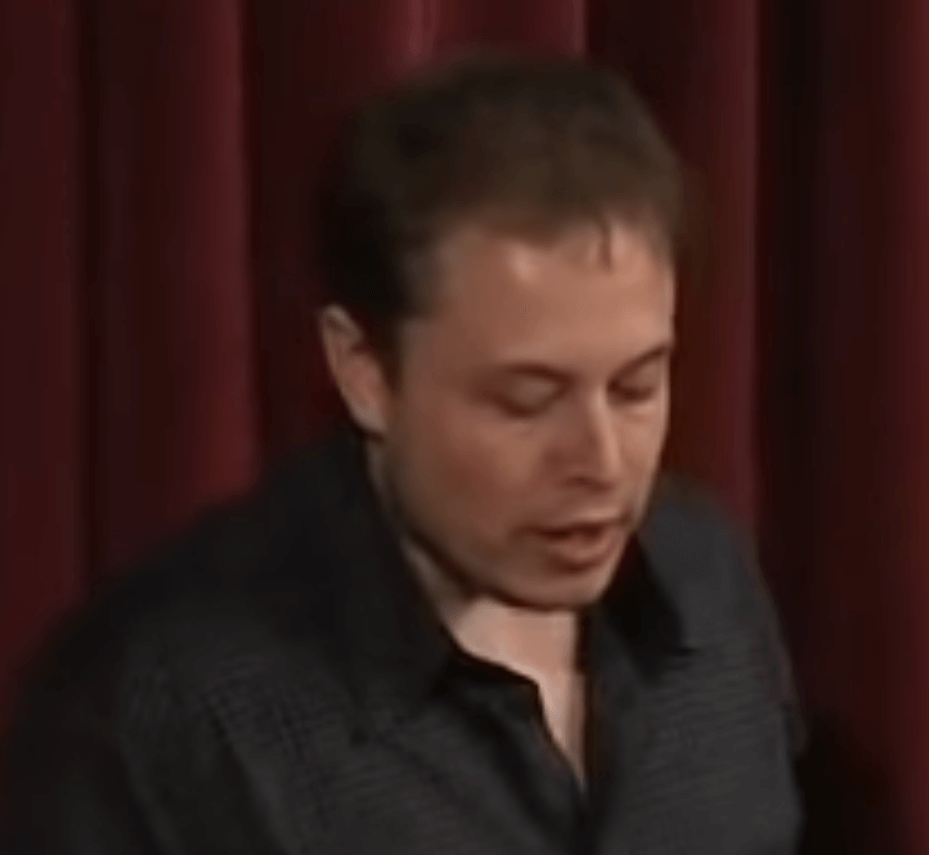 He certainly had a hair transplant between 1999 and 2002, and many agree that it was a FUT surgery as FUE wasn't as widely-known at that time.
Now, a lot of experts also suggest that he has gone through multiple hair transplant surgeries over the years since he still has a full head of hair that isn't even slightly distorted in 2022.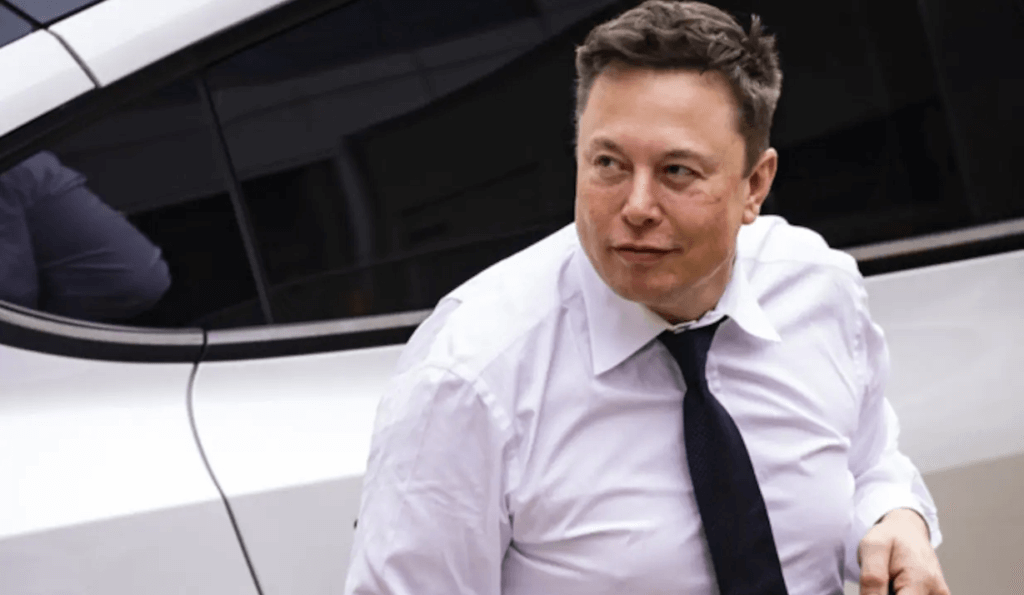 But, it's not for certain. He might also be using finasteride, minoxidil, and other methods to maintain the hair he had transplanted back in 2002.
A hair transplant can last decades, and if maintained properly, is a permanent solution to hair loss, as Elon proves to us today.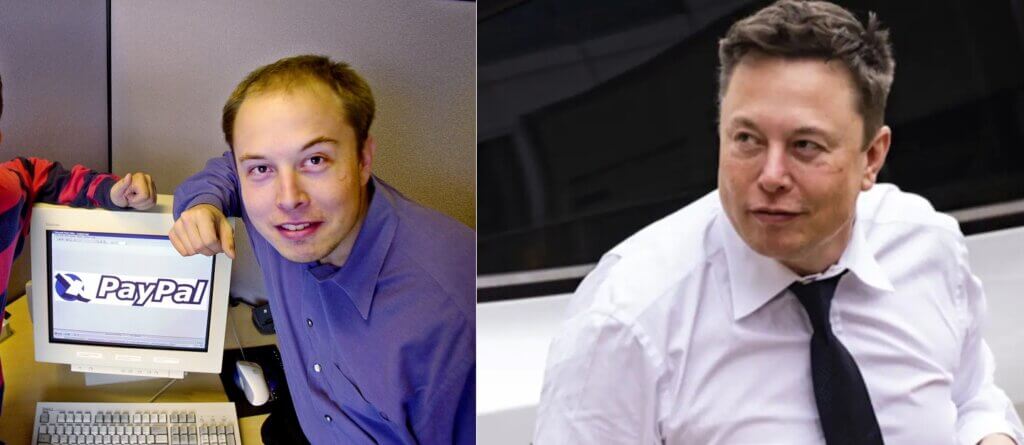 5 – A Failed FUT Surgery
Another patient that has documented his hair transplant progress on Youtube is Anthony from AltcoinXP, but his results weren't a success considering his operation.
Anthony also suffered from male pattern baldness, and his hairline has receded significantly over the years.
You can see in his videos that there is a large bald area on his frontal scalp, so he decided to get a hair transplant surgery from a local surgeon.
He went ahead with the FUT method, and received a 2110 graft implentation.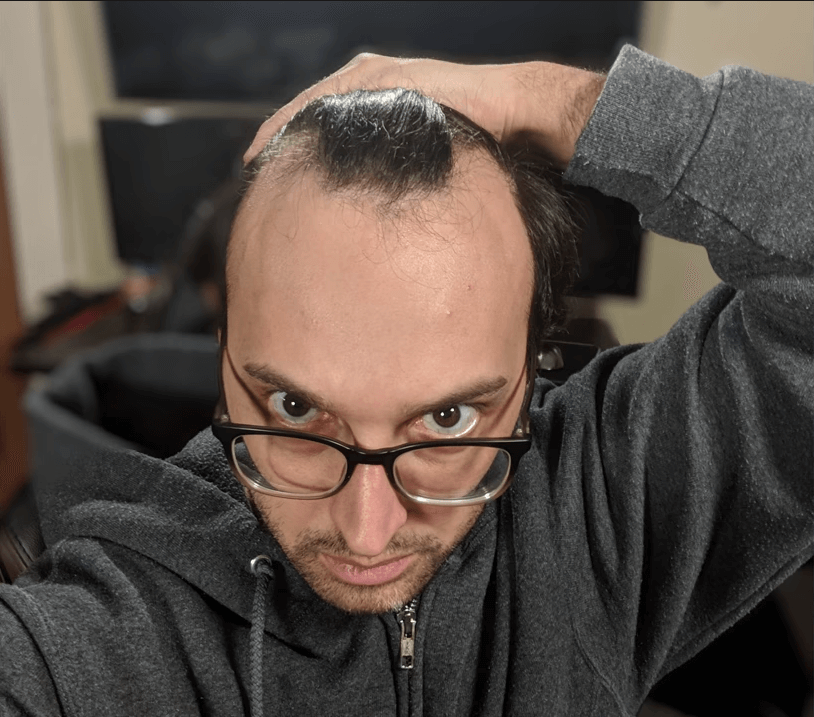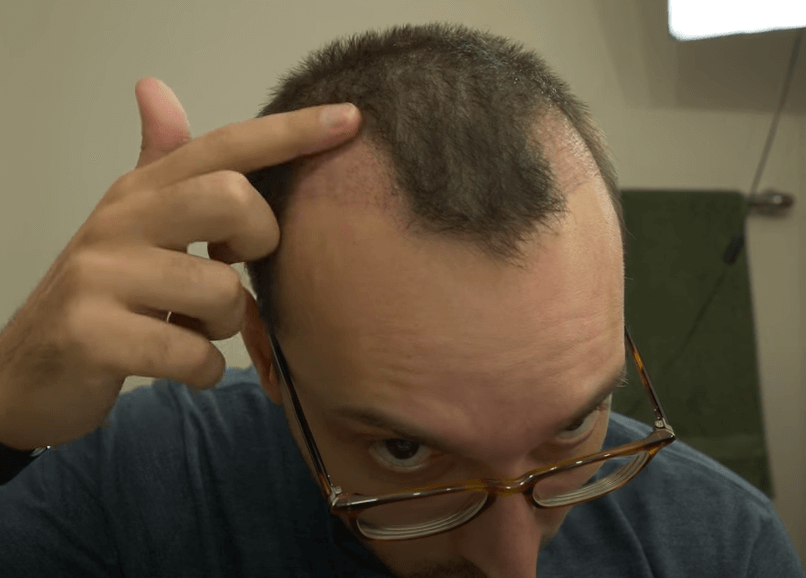 At first, the results were promising. He had a decent initial recovery and could return to his daily activities very soon.
Since a strip of tissue is extracted from the scalp area during a hair transplant surgery, a linear scar was visible on the donor site of Anthony's scalp.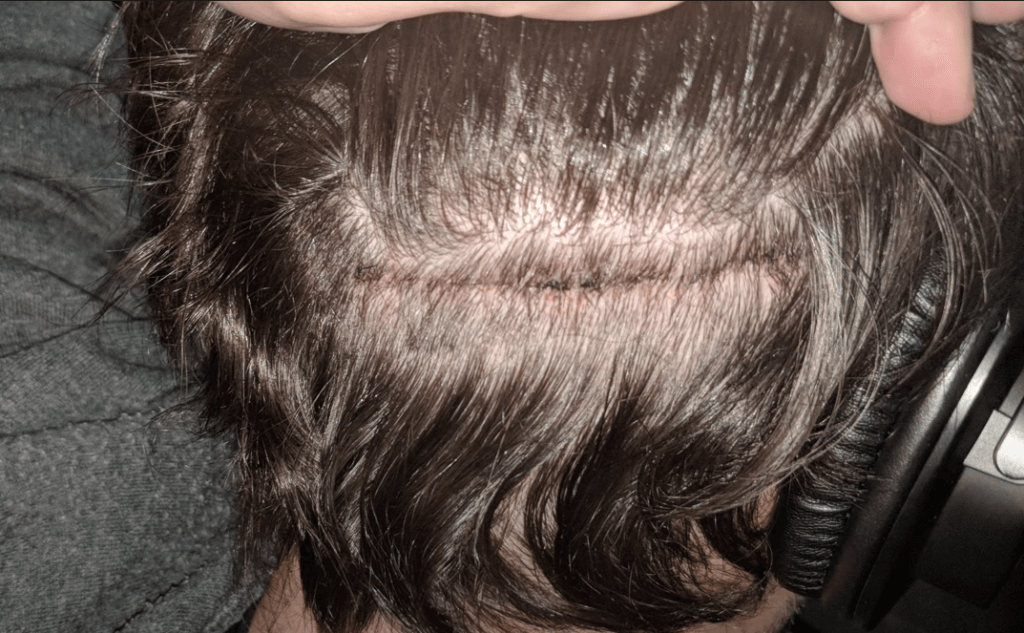 This scar is permanent, and if Anthony ever decided to trim his hair short, people would be able to see the linear scar on the back of his head.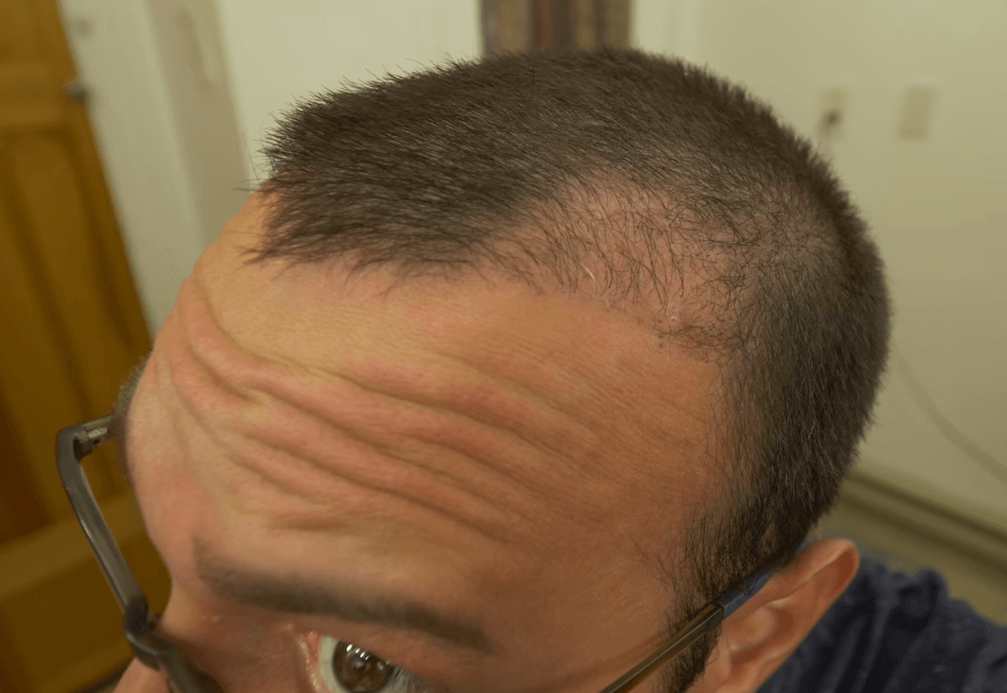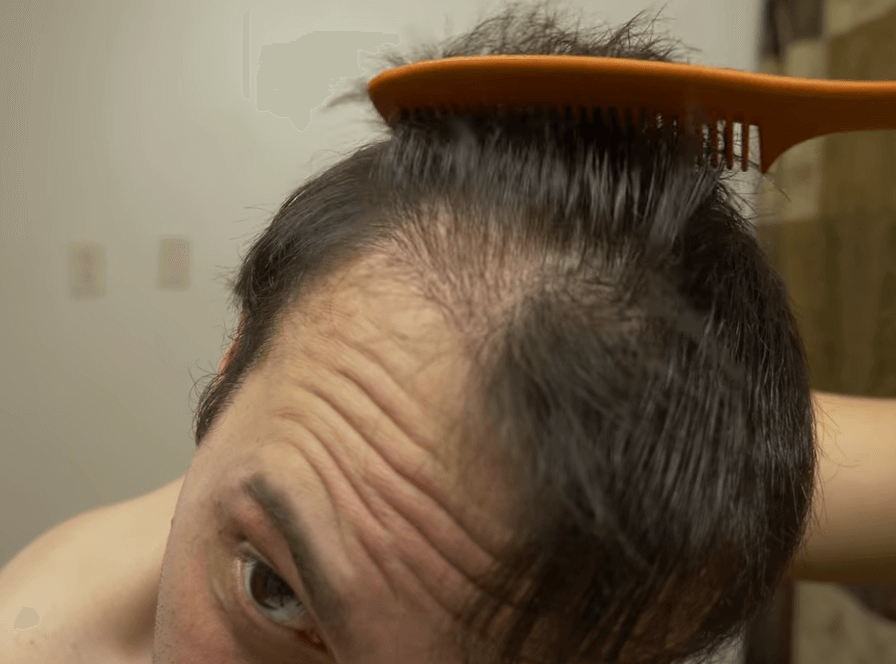 But then, came the realization that his newly transplanted hair lacked in density, and didn't restore his hairline fully.
As you can see from the photos above, the improvement between before the surgery and 9 months following the surgery was little-to-none, which unfortunately renders this hair transplant procedure a failure.
6 – Another Failed Hair Transplant 8 Months Post-Surgery
This Reddit user underwent a 2700 graft FUE surgery that would also result in failure.
As I've mentioned before on this blog, seeing the end result is much more important in determining success, as this patient's hairline and recovery looked perfect 2 weeks after the surgery.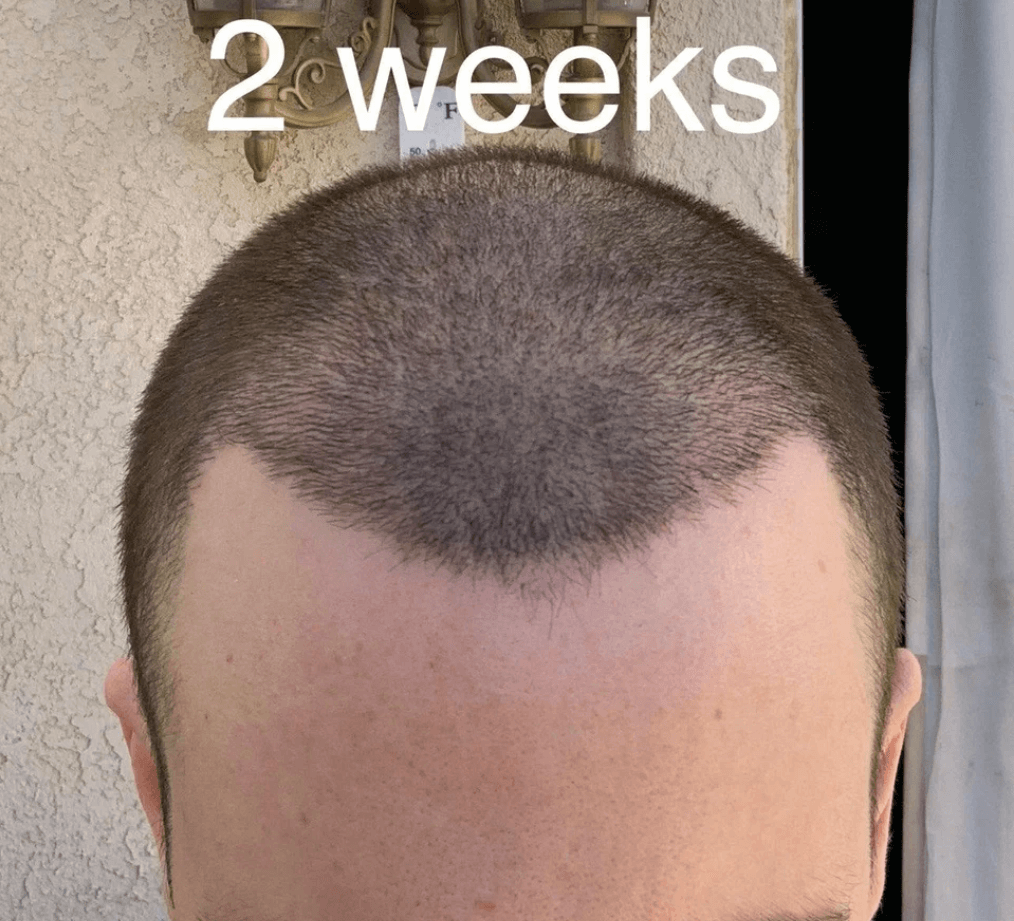 But, a few months after, especially after the 4-month mark, he started seeing hair loss on the sides of his front hairline.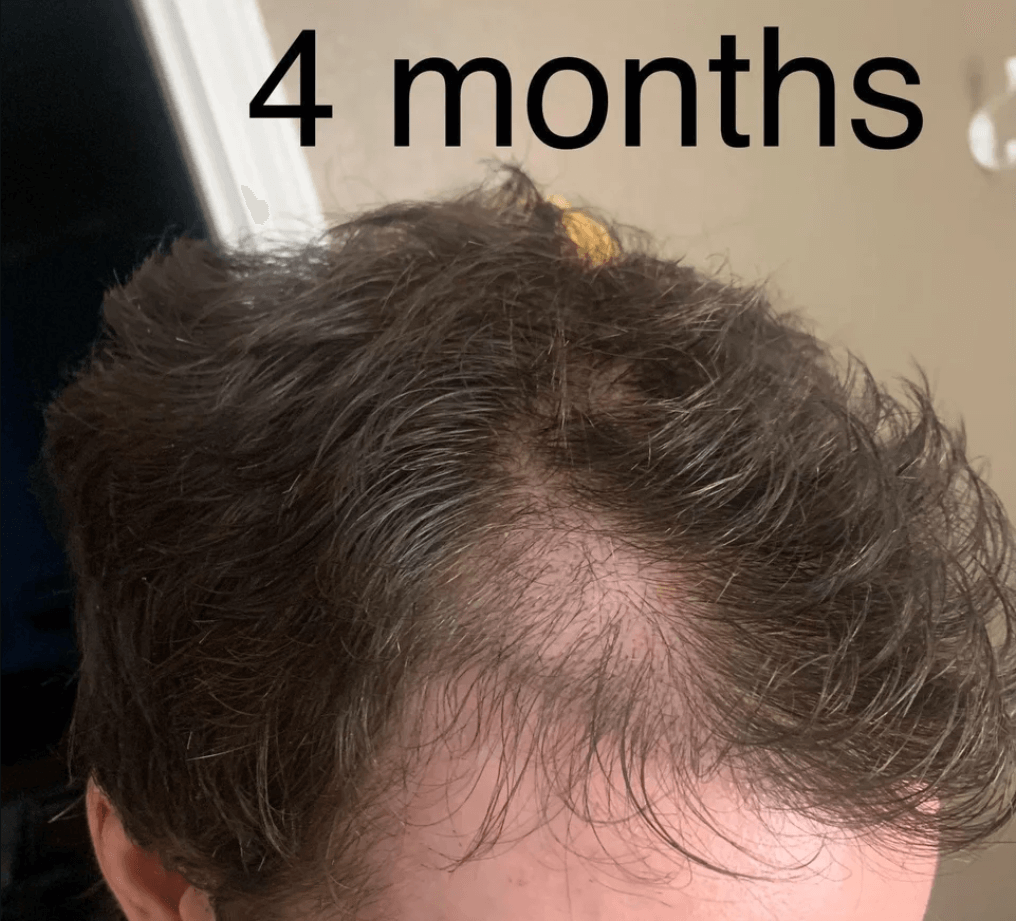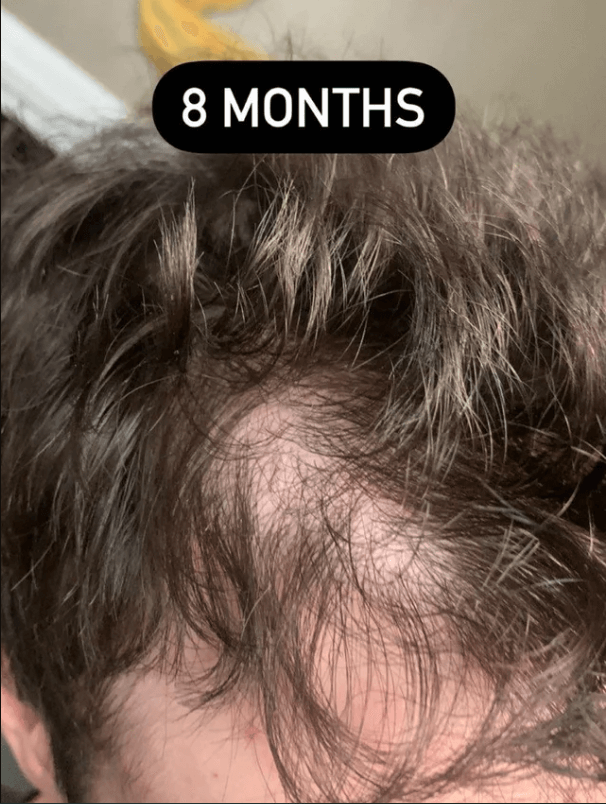 His hair transplant resulted in a failure that left him with an uneven hairline, and he will possibly need to undergo another surgery to restore his hairline to normal.
Success or Failure – significantly dependent on your clinic and physician:
As patients who both had failure and success with their hair transplants would agree, the success of your hair transplant depends on the clinic and the surgeon you're going to choose.
At UnitedCare, we have adopted a holistic approach to hair transplantation surgeries to ensure success.
That means as a dermatologist duo with 20 years of experience, we:
✅ understand and address all the reasons behind your uneven hairline and hair loss,
✅ operate advanced variations of FUE surgeries such as DHI and Sapphire FUE to boost recovery rate,
✅ use bio-enhancements during and after the surgery to maximize graft survival,
✅ follow up the surgery with regular check-ins and examinations to ensure success.


It all starts with the first consultation.
We're just a click away 👇
Show your success in your before and after photos:
UnitedCare's expert dermatologists provide you with a holistic approach to FUE surgeries.
Frequently Asked Questions (FAQs)
---
Is a hair transplant even worth it?
Compared to other methods that either have low chances of success or require you to commit to them on a regular basis, hair transplant surgeries are much more direct and efficient solutions to hair loss. If you can achieve success with your first hair restoration surgery, it's completely worth it.
---
When after a hair transplant will I see real results?
The initial recovery following a hair transplant should last 2-3 weeks, but the real results will come in much later. At 6-12 months, your newly transplanted hair should grow and give you a glimpse of what your hair will be like after that point.
---
How to understand if a hair transplant is even successful?
The success of a hair transplant is determined by the survival rate of the grafts 6-12 months after the surgery. So, if the majority of your transplanted hair has survived after this time, and you have a restored hairline, you can consider your hair transplant successful.