TL;DR
➡ Dermatology is the medical branch that studies and operates on every skin-related condition, including hair-related cases. The pioneers of the hair transplant field mainly consisted of dermatologists.
➡ A hair transplant does not end or begin with surgery alone. Pre-surgery and post-surgery processes are equally important.
➡ To follow the proper steps at every point of a hair transplant and to minimize the risks, consistent consultation with a dermatologist is needed.
You don't have to be a plumber to fix a leaky faucet.
Just like you don't have to be a mechanic to change the oil in your car.
But this approach tends to fail when we proceed towards more complex and risky acts, like building a rocket ship or performing hair transplant surgeries. You'd need experts for these.
In this article, I'll explain as a dermatologist who's treated over 50.000 patients, why you need actual dermatologists when treating hair loss, especially with hair transplant surgeries.
What is dermatology?
When translated from Greek, the word "dermatology" exactly means "study of skin", with the term "derma" directly translated as "skin".
Here's the Wikipedia definition for Dermatology:
Dermatology is the branch of medicine dealing with the skin. It is a specialty with both medical and surgical aspects.

Source
In short, it is a medical branch that studies and operates on everything skin, and the Medical Doctors who practice dermatology are called, you've guessed it, dermatologists.
Who is a dermatologist?
A dermatologist is a Medical Doctor who studies and operates on the skin, as I've mentioned just now.
They're responsible for identifying and treating: skin, hair, nail, and cosmetic-related disorders and symptoms.


Their extensive study around these topics makes a dermatologist understand how our skin and hair react to any change and intervention. There are a lot of variables that come into play when treating skin disorders and applying cosmetic treatments, so I recommend at least consulting a dermatologist even for a small cosmetic operation.
What about hair transplantation, then?
Hair Transplantation is a practice of Medicine
Hair transplantation is a medical operation, in which hair follicles from a donor area (usually the back of your head) are harvested and then planted into a bald, or balding area; to make your hair look like it was before you experienced hair loss.
To further illustrate my point, I'll tell you about the pioneers of hair transplant surgeries:
The first hair transplantation ever in the US (1952) was done by an NYU dermatologist, Dr. Norman Orentreich, following the "hair plug" technique which didn't really offer great results.
The first FUE (follicular unit extraction) surgery was done around 1989, by Dr. Ray Woods, who had experience in neurosurgery, obstetrics, internal medicine, and cosmetic dermatology.
It shouldn't really be a surprise to you, that the people who invented the first and the leading hair transplantation techniques were all medical doctors experienced in dermatology and related fields.
Preventing hair loss, restoring lost hair, and hair transplantation to be specific are all practices of medicine; dermatology to be specific.
You would put the health of your hair and your skin at risk if you would let someone who is not an expert operate your hair transplant surgery.


And it's not just the surgery:
Hair transplantation doesn't end with the surgery
It is the physician that plants the hair follicles in your scalp.
But it is your body that decides whether or not those follicles will survive the next 6 months, or 3 years.
It is your lifestyle and the habits that might make you end up looking the same as or worse than your hair before the surgery.
Would you say a non-dermatologist physician would be an expert on how your lifestyle would affect the survival of your planted hair follicles?
Exactly.
Why is a dermatologist needed for Hair Transplantation?
So let's take a look at the three main reasons why you definitely need a dermatologist for your hair transplant surgery, and beyond:
1- To minimize the risk of Failure
A hair transplant failure is not that uncommon.
A hair transplant surgery can be considered a failure if there are any visible scars in the donor or the target area in the scalp, or the majority of the planted hair didn't survive after a period of time.
Scars and unnatural hairlines can be caused by physicians who don't have much hair transplantation experience and a poor understanding of dermo-cosmetics.
And low survival rate of planted grafts can be caused by a wrong practice during the surgery or lack of guidance provided to the patient for post-surgery activities.
You can read more about hair transplant failures here.
A dermatologist can minimize the risk of failure before, during, and after a hair transplant surgery using their experience and knowledge. You'll get the most out of your hair transplant costs with one.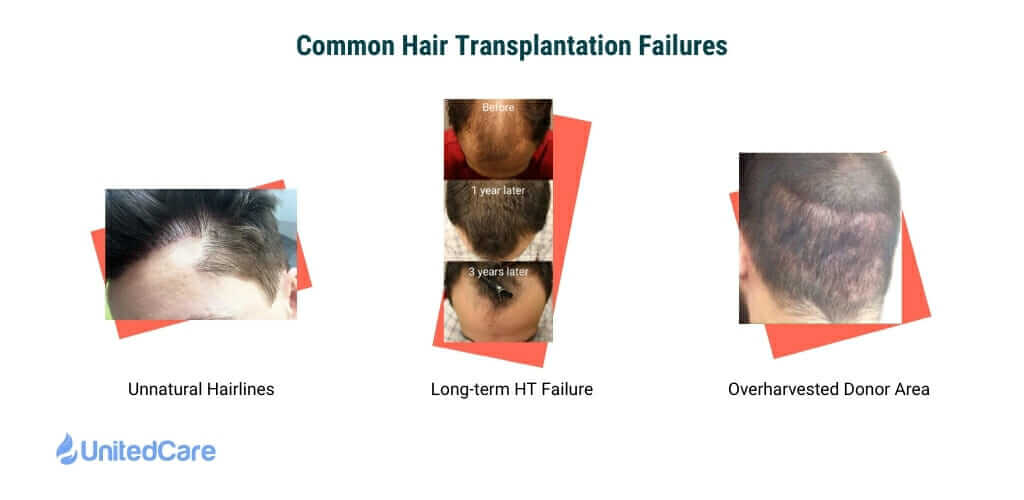 2- To maximize the chance of Success
A hair transplant can be considered a success when the big majority of hair follicles that were planted survive even after a long period of time, and there aren't any scars left from the surgery.
A dermatologist can ensure the success of a hair transplant by:
▶ Understanding the main reasons behind your hair loss and addressing them,
▶ Determine the eligibility of the patient for a hair transplant and conduct a thorough planning pre-surgery,
▶ Strictly following medical procedures and utilizing their experience during the surgery,
▶ Informing the patient of the lifestyle and habit changes they need to make to improve the success rate,
▶ And providing guidance and consultation post-surgery to help with a successful journey and a permanent hair transplant.
3- To deal with any Complications with ease
Every patient is different, and unique complications may occur during and after surgery depending on the patient.
Dealing with these complications and ensuring the success of the operation definitely needs expertise on especially dermatology and derma-cosmetics, which naturally, dermatologists have.
For example, hair transplant surgeries in Afro-American patients are especially challenging due to the thick and curly characteristics of the hair. While removing the follicular unit, it is necessary to know the morphological features of this hair structure well to remove it without damaging it.
Guess in which branch of medicine this is taught?
You're right: dermatology.
Restoring your natural look is possible with a dermatologist
Judging from the inventors of the most advanced hair transplantation techniques and the world-renowned hair transplant surgeons being dermatologists, the big secret behind successful hair transplants is working with an expert dermatologist to ensure success.
This is actually the reason we, as 2 experienced dermatologists who treated over 50.000 patients combined have started a hair transplantation clinic in Istanbul, Turkey.
We look at hair transplantation with a holistic approach, in which we:
✅ First understand the underlying conditions causing hair loss,
✅ Deciding on the suitable hair loss treatment, and plan the process if it is a hair transplant surgery,
✅ Operate the surgery ourselves,
✅ Inform the patient about the next steps they are required to take for success,
✅ And of course, keep an open communication channel with regular check-ins for at least 6 months and beyond.
This way, we ensure the success of the operation and create success stories with patients that restore their natural looks. Here's all you need to know about hair transplant surgeries at UnitedCare.
Also, did you know that you can get an expert opinion from a dermatologist right now? 👇
Achieve a successful Hair Transplantation with an Expert Dermatologist.
UnitedCare's expert dermatosurgeons are waiting for your call:
Frequently Asked Questions (FAQs)
---
What does a dermatologist do?
A dermatologist is a doctor who operates on medical disorders and diseases involving primarily skin, hair, and nails. For example, a dermatologist can help you treat medical disorders, improve your skin texture, stop hair loss, get hair transplants, and more.
---
Do dermatologists do hair transplants?
Yes, dermatologists, in general, are the most knowledgeable medical experts on doing hair transplants. Also, with their medical holistic approach, dermatologists can ensure the success of your hair transplant.
---
What are the disadvantages of a hair transplant?
When done by a physician who is not an expert or a non-medical technician, a hair transplant has a high chance of failing by losing most of the planted grafts. Hair transplantation is surgery of hair and skin and should be done by an actual surgeon experienced in treating skin and hair disorders.