In 2022, if you're looking for a hair transplant you're met with 2 options:
FUE or FUT.
Both techniques are widely practiced and equally effective on paper, but there are a few more points you need to know before choosing.
TL;DR
▶ FUE is a much more advanced and modern technique that requires more experience for careful operations., which is why it is still primarily practiced.
▶ FUE takes more effort as each hair follicle is extracted one by one instead of all of them being extracted from a strip of tissue that is cut and harvested.
▶ It may take more effort, time, and experience for a surgeon to operate FUE. But it gives more control over graft placement, angle, and depth, which highly contribute to more natural results.
▶ Ultimately, these methods have similar effectiveness in surviving hair grafts. However, FUE is much more successful in covering surgery scars and creating more natural-looking results.
In this guide, I'll help you compare FUE and FUT to choose the right method for your hair transplant surgery.
What is FUT?
Follicular Unit Transplantation (FUT), aka Strip Surgery, came in as a modern alternative to the outdated "hair plugs" technique and offered significantly more natural results for hair loss treatments.
It was developed in 1988 by dermatologist doctor Bobby Limmer and was quickly adopted by the majority of hair restoration surgeons worldwide.
In FUT surgery, hair follicles are extracted by technicians from a strip of tissue that is cut and harvested from the donor area. In general, FUT takes less effort and time to operate, so FUE hair transplants cost more than FUE and other modern techniques in most clinics.
In addition, in FUT, each graft on the strip can be dissected under a microscope and has less chance of being harmed. As a result, it may result in better graft yields (compared to inexperienced FUE operators).
And that is the main reason there is still a large number of clinics still practicing FUT rather than FUE.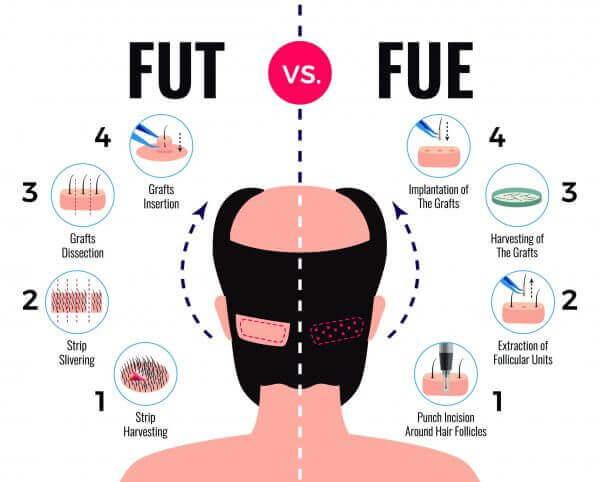 What is FUE?
Follicular Unit Extraction (FUE), or Follicular Unit Excision, is a technique initially developed in the 1930s by Japanese dermatologists. Still, since it didn't have as much spotlight as FUT had, it took years to become widely adopted.
In FUE surgery, individual hair follicles are extracted one by one from the donor area without transections (graft amputation by misuse of tools) using a punch tool and then planted directly into the donor area.
The pioneers of this method are Dr. Masumi Inaba and Dr. Ray Woods, who simultaneously adopted and improved this technique to treat male pattern baldness over the years. But it wasn't until Dr. William Rassman and Dr. Rober Bernstein's article about the method that FUE became popular.
It takes more effort and time for a surgeon to operate an FUE surgery, as it needs more precision.
Similarities between FUE and FUT
FUE and FUT can look identical surgery-wise, except for one significant step in the graft harvesting process.
So, the two methods have various similarities that sometimes get patients confused. Here are some of these similarities explained:
Pre-Surgery
Pre-surgery processes and activities are almost the same in both methods.
You go through an initial examination, your hair loss type and causes for baldness are explored. Then, your new hairline is drawn, and the hair transplant surgeon proceeds with the surgery.
The flow and the steps are the same.
Implanting
The surgery part where the surgeon implants the harvested grafts into your scalp is also the same in both methods.
Each follicle is carefully implanted into the bald areas of your scalp, and your hairline is restored one hair at a time.
Post-Surgery Care
Except for just one activity, removing the stitches in the donor area after the FUT surgery after operation care for hair transplant is the same for each transplant method.
After an FUE or FUT surgery, you're expected to minimize the factors that might cause further hair loss and adopt a few habits and supplementary products to maximize your chance of success.
Speaking of success rates:
Success Rates
On paper, the success rates of both FUE and FUT are the same, around 99% for high-end clinics such as UnitedCare.
The reason I've stressed "on paper" is that the success of a hair transplant is generally measured by the surviving number of transplanted grafts a year or so after the surgery. When you look at it from this perspective, the differences between the two latest hair transplant techniques don't affect the success rate.
However, as I and a significant number of dermatologists can agree, the success shouldn't be calculated just by the graft survival rate as the patients don't care much about it.
The results and how they appear day-to-day are much more essential points to consider, and in FUT surgeries, results might not be what the patient was expecting. Due to linear scars caused by the harvesting part of a FUT surgery, some patients consider their hair transplant surgery "unsuccessful" and their results "unnatural."
I'll talk about the scarring in FUT in a little bit.
Differences between FUE and FUT
As I've mentioned, there is just one difference between FUE and FUT surgical procedures, which ends up creating strong comparison points overall.
Here are all the differences between FUT and FUE:
Pre-Surgery
We've stressed that the pre-surgery was similar in both types of hair transplants, but there is one minor difference that isn't as significant.
In FUT surgery, in contrast to FUE surgery, you don't necessarily need to get your hair trimmed. You can undergo surgery with a full head of hair.
Harvesting
The main difference between the two techniques appears in the harvesting part of a hair transplant surgery.
In FUE surgery, hair follicles are individually extracted directly from the scalp without cutting any tissue from the donor area.
In FUE extraction, motorized punches are employed. The size of the punch should be as small as possible to leave minimum damage and scar. "Hair mill" clinics use big punches to reduce surgery time.
Furthermore, the operator's skills and experience have a vital role in FUE harvesting. Novice operators can easily damage the hair shaft or follicle by high rpm motorized punches while extracting the graft from the donor area.
Only a dermatologist surgeon who performed over 500+ surgeries has a graft damage ratio of 1% in FUE harvesting.
A random team assigned to your surgery in famous clinics may have over 20% harmed graft ratio, ruining the donor areas and causing less coverage in recipient zones.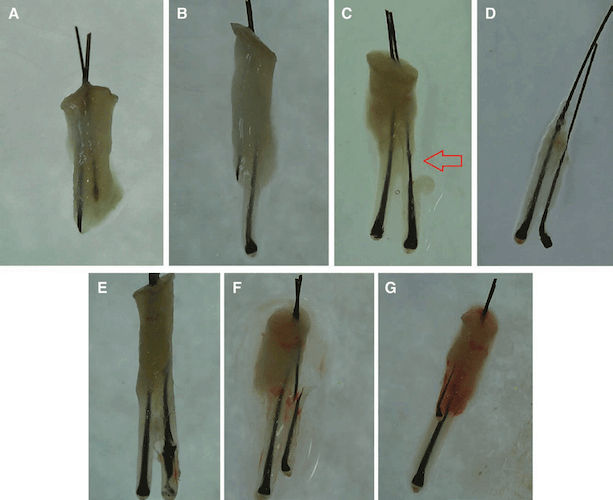 In FUT surgery, instead of directly harvested from the scalp, hair follicles are harvested from a strip of tissue cut and extracted from the donor area. So, the harvesting stage consists of two steps: tissue removal from the donor area by the surgeon and harvesting hair follicles from this donor strip by (usually) technicians under the microscope.
This difference affects effort, time, graft yield, the cost of the surgery, the recovery process, and the overall look of results.
Operation Time
First off, FUT surgeries take significantly less time than FUE surgeries, up to 50%.
A FUT surgery will take 4-8 hours for most patients, while the FUE surgery can take 6-12 hours. This is due to surgeons working the scalp with more precision, especially during the harvesting part of the surgery.
Cost
FUT surgeries also cost less due to less time and effort required by the surgeon than the FUE surgeries. On average, the cost of an FUE operation for the same graft is 25% more expensive than a FUT surgery.
The FUT technique might seem like a viable option when considering the operation durations and costs, but the FUE surgery doesn't take more time or cost more without reason. The extra precision needed in an FUE surgery accounts for usually better recovery times and results.
Recovery
It takes the average FUT patient weeks to recover, while the FUE patient can fully recover within days of the operation to return to normal activities.
This equals fewer problems and complications that might occur and minimal pain and tightness around the scalp. Also, the area where the tissue was harvested from during the FUT surgery needs to be further treated after the surgery, such as removal of the stitches and close follow-up by a physician.
It's not the only aspect FUE delivers better than FUT:
Scars
Compared to hair plugs, FUT surgeries were a giant leap forward.
The transplanted hair looks much more natural, and you can fully recover your receding hairline and keep it forever. Due to this fact, FUT was the gold standard for every surgeon in the world until FUE became more popular.
But Follicular Unit Transplantation has one flaw: the linear scar where the tissue was cut from.
No matter the clinic, surgeon, graft number, or the advanced technique used, you'll have a linear scar caused by the tissue cut during the surgery. This scar fades away slowly, but it unfortunately never disappears.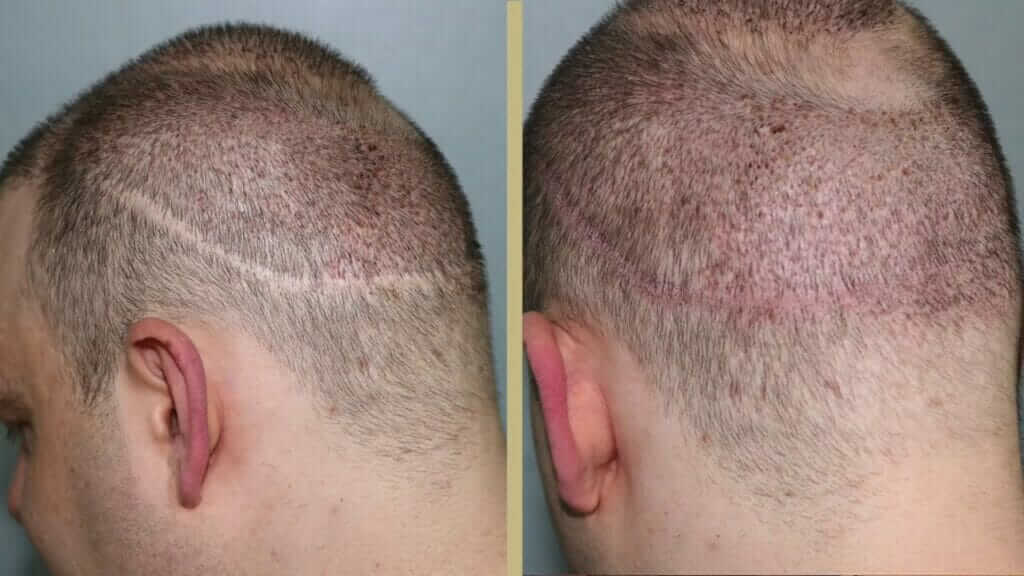 It might not occur as a problem first if you're wearing your hair long. It won't be visible if you're not looking for it. But if you want to get a buzz cut or a fade cut, you'll have a problem at your hands.
I've had dozens of patients that had a successful FUT surgery, but wanted an FUE to cover up these scars, the before and after of which looks a bit like this: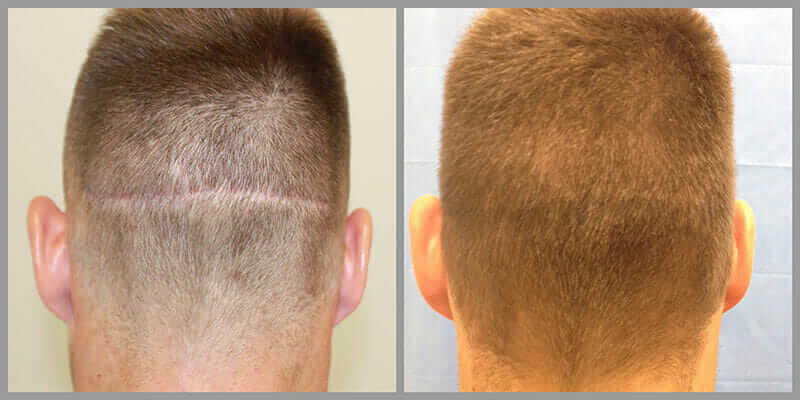 On the other hand, in an FUE surgery, none to minimal scarring that doesn't affect your general appearance is present.
Results
The main difference between FUT and FUE surgeries is the linear scars caused by tissue removal in FUT procedures.
You can come across many visual comparisons between the results if you went looking, such as:
So, I can say for sure that even though the results of the two processes are usually equally successful, FUE surgeries produce more natural-looking results without any scars to worry about.
So, Which One Should You Get?
As an expert dermatologist – who has treated over 50,000+ patients and conducted over 500+ hair transplants – among the two hair transplant procedures, my genuine suggestion is to go with FUE surgeries if possible.
You'll have a significantly better experience compared to FUT surgeries, even though it will take more time and a larger budget to get it done.
If you're still unable to decide, schedule a free consultation from below. Let's talk:
You can restore your natural look with a dermatologist right now:
UnitedCare's expert dermatologists provide you with a holistic approach to hair transplant surgeries.
Frequently Asked Questions (FAQs)
---
Is FUT better than FUE?
FUT surgeries can be considered better in terms of costs and operation duration, but the FUE surgeries are superior when you take recovery time, end results, and precision into account. However, the cases may vary and one can be a solid option for you while one doesn't.
---
Is FUE more expensive than FUT?
Yes, on average, FUE is 25% more expensive than FUT surgery, with exact pricing depending on the location of the clinic and graft numbers. This difference is caused by FUE taking more time and effort than the FUT surgeries to produce more precise results.
---
Is FUT more painful than FUE?
In most cases, FUT patients suffer from stiffness and post-surgery pain more than FUE patients, due to tissue removal from the donor region in FUT surgeries. So, it wouldn't be wrong to say that FUT is more painful than FUE surgeries when compared.
---
Is FUE less effective than FUT?
No, both FUE and FUT are highly effective surgical procedures to restore your hairline. The graft survival rate is between 80-90% on average for each type of hair transplant, while FUT surgeries have more unnatural-looking end results due to linear scars caused.